Moving home
The end of the semester means moving out of the residence halls and back home. Hauling belongings out of your student's room can be much more difficult than moving in, because he has likely acquired more stuff, such as clothes, papers and even larger items such as futons or other furniture as the school year progressed.
Moving out can be emotionally taxing as well. After a year of sharing a room with another person, it can be difficult to transition back to living with parents, siblings or other family members.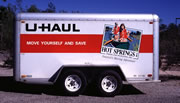 To make the move out process easier for your student and her helpers, suggest that she get rid of anything she thinks she will no longer need. Each residence hall has a designated area for items such as clothes and unopened non-perishable food to be donated to people in need in the Greater Olean community.
If there isn't room to carry home all of your student's belongings, consider getting a storage unit. Sharing the unit among friends can make the cost quite reasonable.
"I keep a lot of my stuff in plastic bins that fit under my bed. Because of that, I really only have my closet to pack up," sophomore Jess Kumor said. Kumor has an eight-hour drive to her hometown in Massachusetts.
"It's annoying to be packed in a car for that long with that much stuff, but I always insist I have to keep things I really don't need," she said. "I'm going to get rid of some stuff before I move out this year."
Moving back home can be difficult, especially after minimal supervision living in a residence hall and being in small quarters.
"I never really unpacked any of my stuff," said sophomore Tim Schneider. "I didn't want to have to pack everything up again for the fall. I basically lived out of boxes all summer."
"It was weird not having my roommate around all the time, so it was kind of lonely at first," Schneider said. "I spent a lot of time with friends, so that made up for it."
Sophomore Morgan Nyweide didn't think the transition was hard at all.
"I definitely was excited for eating home-cooked meals again. I was excited to see old friends again, too. I missed Bona's, but I knew I'd be back in a few months," she said.
If your student misses being at school, assure him it will only be a few months before he'll be back. In the meantime, he has the summer to relax, catch up with friends and work.
-Elizabeth Witter
Class of '11