Demystifying room selection
When freshmen first commit to attend St. Bonaventure, they usually don't control where they'll live or who will share their room.
Those decisions are made by the residence life staff. Nichole Gonzalez, director of residence life, said freshmen are assigned living areas according to a list of preferences they fill out during summer.
Soon, however, freshmen will have to consider where they'd like to live next, and whether they'd like to remain with their current roommate or make a change.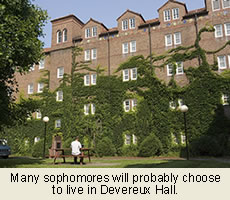 "They really should give a lot of thought to who they want to live with," said Gonzalez. "They are now on their own."
The room selection progress is coordinated by Joe Stomieroski, director of housing. Stomieroski said the process begins with payment of a non-refundable room deposit of $150, which is due on or before March 2, 2009.
Once students pay the deposit, their names are put into a lottery that is organized by class size. For example, if 400 students are registered in a class, 400 tabs of paper, numbered 1-400, are prepared.
Stomieroski said a student housing committee goes down the list of students alphabetically. For each student, one of the number tabs is chosen. That number, chosen at random, becomes the student's raw lottery number.
A formula then adds points for the GPA and cumulative credit hours, Stomieroski said. Students can score more points by achieving higher grade point averages. The number that results from the formula is subtracted from the raw number, yielding the final product: a student's total lottery number.
At the end of March, these numbers and room selection schedules are sent to every student's post office box.
During the first few weeks of April, freshmen will attend the actual room selection event held on Bob Lanier Court in the Reilly Center. Students with low lottery numbers will get to pick their rooms first.
Stomieroski said the process is held over three days. The final day is set aside for those registered sophomores to pick rooms by themselves, or with a desired roommate.
"If you go to room selection with your roommate who has a lower lottery number, both of you can go pick a room together when that number's called," said Stomieroski.
Gonzalez said finding a friend to live with before the room selection process happens makes life easier for freshmen.
"Planning ahead for room selection is important," she said, "because sophomores can always control who they live with, but they are not always guaranteed their ideal room or building."
Devereux and Doyle halls are the most popular places to live for sophomores, so they fill up fast, said Gonzalez.
Devereux Hall, the University's oldest residence hall, offers one-, two- and three-person rooms. It has lounge areas with TV access on every floor and its own laundry facility on the main level. Devereux is also conveniently located near many campus buildings, such as Friedsam Memorial Library, Hickey Memorial Dining Hall and the Regina A. Quick Center for the Arts.
In addition to rooms for students, Doyle Hall includes the offices for Health Services, the Department of History and the Teaching and Learning Center.
Sophomores can also choose Francis Hall, located on the east side of campus. This residence hall provides only single rooms. However, residents of Francis do have some perks. They can purchase a meal plan designed for them. They also have access to the Bona Bus, which provides transportation across campus.
Sorting through the housing options can take time, so students should begin giving it some thought early.
"I understand that many freshmen want to live near their friends," said Gonzalez, "but they shouldn't wait until the day before room selection to figure that out."
If your student needs more information on any of the University's residence halls or other campus life issues, they can find it on the University's Web site, www.sbu.edu, under the Residence Life link.
-Eric Carlson
Class of '09
_________________________________