Coming home can be an adjustment
The holidays are a time for families to get together and enjoy each other's company, but for college students returning home for the first time since August, December break can seem like too much of a good thing. After months of living on their own and answering to no one but themselves (and occasionally a crotchety roommate) being back at home can come as a rude awakening.
"Having to tell the parents where I was going instead of just walking out was different. It was hard to get used to, since I was used to just doing my own thing," said Patrick Monreal, a junior management major.
Cameron DeOrdio, a freshman J/MC major, agreed.
"I think it'll be a little odd, because I'll have to go back to a little parental control," he said. "But it'll definitely be nice showering without sandals!"
Being back home again brings with it many changes, some bigger than others. Many students fear that hanging out with high school friends will be different after not seeing one another for months, or that friendships will have changed or evaporated altogether. Even practices like showering with shoes on, subsisting solely on Easy Mac and dining hall food, and being surrounded by other students at all times are unique college experiences that can take some readjusting when students return home. Some freshmen look forward to this change with some trepidation.
"It was hard even coming back from Thanksgiving because I live so far away, and it was hard seeing all my high school friends and hanging out with them and then having to come back to classes and stress," said Ann Young, a freshman psychology major. "Besides, after Christmas break I'll be coming back to new classes, so that is half exciting and half nerve-wracking."
"Most of my friends went to school close to home, so it'll be different hanging out with them again since I've been away for so long," said Courtney Bosse, a freshman engineering physics major.
"My parents nagged me a lot when I lived at home, so they'll probably continue doing that, too," she added, rolling her eyes.
Jamie Anderson, a junior psychology major, remembers the changes she saw coming home for the first time as mostly pleasant ones.
"It's home, it's comforting," she said. "Living with my mom, if anything, is easier because we value our time together more. Coming home to old friends was different but it didn't change as much as I thought it would."
Despite the differences encountered when students return home for break, most look forward to the respite from the stress and workload of school. Although it can go quickly, freshmen will often find themselves ready to get back to the daily grind just in time for classes to resume.
Young considered this concept and agreed that the break may be just long enough.
"My mom told me the other day that I'll probably be begging her to send me back to Bona's after a few weeks," she said, thinking about it for a second and then laughing at herself. "We'll see."
-Lizz Schumer
Class of '09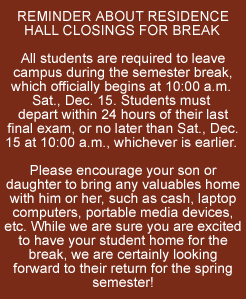 Giving back this holiday season

It is that time of year again, when giving is as sweet as receiving. For four groups that are a part of St. Bonaventure's University Ministries– Bona Buddies, Bona Sisters, Rights of Passage, and Bona Leaders – it is the time of year to help underprivileged children through the annual Festival of Trees.
The Festival of Trees Celebration is the biggest event of the year for Bona Buddies as far as planning and funding. The funding mainly comes from sponsors throughout the St. Bonaventure and the local communities. The event consists of raising money for trees, gifts, decorations and other items to send home with the children who participate in the event. The event takes about a month and a half of planning and coordinating.
"This year, there have been 20 trees that are variously sponsored and will be given to the children in the programs," said Bridget Morgan, student coordinator of Bona Buddies.
The event takes place Dec. 7. It starts at Butler gym, where kids will be able to meet with the members of the Bonaventure men's basketball team. Following that, the guests are treated to dinner, with entertainment by the St. Bonaventure Step Team. After that, a random drawing will determine which children will receive the decorated trees. Santa Claus will finish the evening by handing out gifts donated by sponsors and wrapped by volunteers.
"Without all the help of volunteers and sponsors, this event would not be possible," Morgan said. "We've been working hard on getting the Bonaventure community with the neighboring communities to show together how we can give back to those who may not normally have a great holiday season."
The trees will be displayed all day Dec. 8 and will be picked up by the kids on Dec. 9.
-Deandra Danch
Class of '09