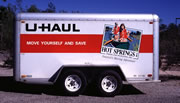 Heading home for the summer
Members of the St. Bonaventure University Class of 2010 will soon be packing their bags, saying good-bye to their friends and heading home for the summer.
Classes ended on Wednesday, May 2, and final examinations began on Friday, May 4. The last day of finals is Wednesday, May 9, which means this year's freshmen should be home by Thursday, May 10.
Then they face another new experience – their first summer home as college students.
"It was an adjustment having (my son) Mark come home," said Jean Ehman, director at the University's Teaching and Learning Center. "There was a degree of re-acquaintance."
Ehman said her son Mark graduated from Alfred University in 2006. She said when he came home for his first summer, it was an adjustment for her, for her husband and for Mark.
"It was tempting to revert back to the suggestions parents like to give their children," she said. "But we didn't put restrictions on him as long as he was being responsible."
She said Mark had grown accustomed to having his independence and expected some freedom at home. She and her husband gave him that freedom as long as he fulfilled his responsibilities, she said.
"We didn't let him be a guest. There were still lawns to be mowed," Ehman said.
Freshmen at St. Bonaventure University said a change in their level of independence is the biggest change they anticipate in going home for the summer.
"I have thoroughly enjoyed my independence and making new friends," said Ashley Foulkrod, a freshman accounting major.
Foulkrod lives in Edinboro, Pa., about two hours from the University. She said she thinks some adjustment will be necessary when she goes home.
"I think going back to my hometown and living with my family and seeing my friends from high school will be strange because I know we have all changed a lot," Foulkrod said.
Meghan Rossman, a sophomore journalism and mass communication major, also lives about two hours from St. Bonaventure University, in Niagara Falls, N.Y. She agreed with Foulkrod that there was a period of adjustment when she went home last summer.
"There's a re-adjustment period when you first get home. It's normal to feel slightly out of place at first," she said.
Rossman recommended getting a summer job or internship and establishing a routine to help get re-adjusted. She also said to make the most of the summer.
"Enjoy it. The summer goes by fast, so make the most of it and be productive. Keep in touch with your friends and Bona's, though," she said.
Ehman's advice to parents was to remember that their college freshmen – now sophomores – have grown a lot on their own in the past year.
"Recognize that they have made a series of smart choices without parents hovering over them," she said. "But realize that the pile of stuff from the dorm room in the garage doesn't go away by itself."
-Emily Marsh
Class of '09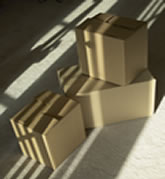 Student well-being
It is the mission of the St. Bonaventure faculty and staff to prepare students for a good journey through life, including building their well-being. Recent research by a Bonaventure professor offers some information to help reach that goal.
Dr. Charles Walker, professor of psychology, currently heads a research project monitoring the well-being of St. Bonaventure students.
Walker began his research in 2001, when he developed an early version of the study and asked students in Clare College and other classes to participate.
Those early surveys, he explained, allowed him to clarify the language and check some of the items being studied.
"In 2004, Janine Fodor (then director of the Journey Project) wanted to experiment with community learning with the incoming freshman class," said Walker, who is currently grant evaluator for the Journey Project. "I suggested assessing changes in well-being variables and to contrast any effects seen with the freshmen against a comparable sample of upperclassmen."
The Journey Project is a comprehensive initiative designed to create a campus culture where students, faculty and staff on campus give issues of faith, service and vocation serious consideration, according to the university Web site.
Programs used in the study include the community learning pilot program, internships, BonaResponds, the University 101 classes and the First-Year Experience program.
Working with the help of psychology graduate and undergraduate students and fellow instructors, Walker set his plan in motion.
"I've used quota samples to represent the classes of 2008 and 2010, and for control groups of upperclassmen. Over 1,000 students have participated," he said.
He said he used some of the data from his early research as a baseline for the current study.
His research, he explained, is based on a method of testing human well-being that was developed by Carol Ryff. Ryff is a professor of psychology at the University of Wisconsin, according to the University of Wisconsin Web site.
The well-being model used in the study is comprehensive, he said. It assesses 16 dimensions of a student's life, including academic competence, self-regulation, love and religion.
Walker uses profile methods to identify and track participants because he said it is a more accurate way to measure the full vitality and true happiness and satisfaction of an individual. All participating students remain anonymous.
The study, Walker said, has four expressions:
* observing the effects of Journey Project programs on the well-being of students;
* monitoring how the well-being of students in the class of 2008 changed while at SBU;
* assessing the effects of First-Year Experience (FYE) programs on student well-being for the class of 2010; and
* developing feasible interventions for students themselves or their advisors or counselors to use to enhance well-being.
"My results suggest that participation (in the Journey Project programs) supports the development of virtue in students, which in turn strengthens their sense of well-being," Walker said. "I also have data that support the conclusion that internships and other service experience rescue students from a condition of languishing and propels flourishing in others."
Walker said students in the class of 2008 participating in the survey have taken an inventory on student well-being three times: September 2004, December 2004 and December 2005.
"Their positivity ratios have increased steadily from 3.6 to 4.2," he said. "Ratios near and above 4.3 strongly support the inference that a person is growing, learning and having a high quality of life experience."
Overall, Walker said he is surprised at how happy St. Bonaventure students are. He said the study shows students have great friendships with one another, and they get along very well with faculty and their advisors. However, the study also shows that close, intimate relationships can negatively affect student well-being.
"Finding, building and keeping love is risky and painful for a substantial number of students," Walker said.
Currently, Walker is writing a handbook that will contain his insights gained from this research. In the future, he hopes to use this research to contribute to conferences on student well-being.
Walker said he hopes the research process becomes "a steady, routine practice." He would like to continue to monitor incoming freshman classes.
"It takes a teacher to increase knowledge, but it takes a community to build well-being."
- Amy Passalugo
Class of '08