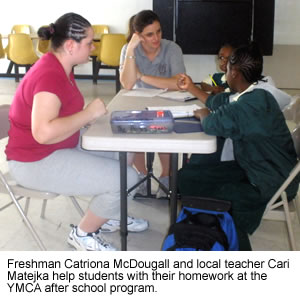 Christmas break with SIFE
For St. Bonaventure's Students In Free Enterprise (SIFE), Christmas break is a time of service. For the fifth consecutive year, SIFE representatives from St. Bonaventure spent eight days of their break in the Bahamas performing service tasks for various schools, organizations and individuals.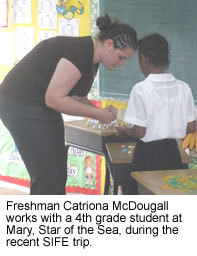 Kristen Schober, a senior journalism/mass communication major and member of SIFE, said 32 students, six St. Bonaventure professors and five teachers from elementary schools in the Olean area were on the trip.
On arrival, Schober said, students divided themselves into two teams, the school team and the service team.
"The service team converted a nursery into a senior citizens center, tarred roofs and built a concession stand for the Delancy School," Schober said.
Other service team projects included building a greenhouse for the Beacon School for use by children with mental and physical disabilities. The greenhouse will allow students to grow fruits and vegetables when not permitted by outdoor weather, Schober said.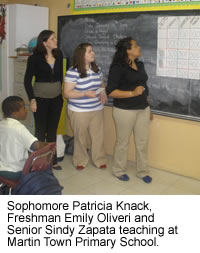 The school team worked with local students on programs geared toward building an understanding of basic financial skills.
"Students earned pretend money during the week for answering questions, helping a classmate or teacher, or general good behavior," Schober said. "On Thursday, the teachers set up a store with candy and small toys for students to purchase with their earned money."
Schober said this exercise helped the children learn how to add up totals and determine how much change they should get back. Other programs included a YMCA after-school program to help with homework and a program in which SIFE students helped adults learn to use computers and the Internet.
"It was such an amazing experience," Schober said. "The reward comes from seeing the people you've worked for, their response."
St. Bonaventure's Students In Free Enterprise program is ranked in the top 5 percent of SIFE teams nationwide, according to www.sbu.edu. Students interested in joining should contact Dr. Todd Palmer, associate professor of management sciences and faculty adviser to the program, at tpalmer@sbu.edu.
-Connor McDonald
Class of '11
Spring break with BonaResponds
For some students, the University's spring break means time at home, catching up with family and friends, or traveling, usually someplace sunny and warm.
But for the students involved with BonaResponds, spring break '09 will mean a trip to Galveston, Texas, to help rebuild an area largely wiped out last year by Hurricane Ike.
Dr. Jim Mahar, associate professor of finance and BonaResponds adviser, said he expects 50 volunteers for the trip to Texas. The trip, he noted, can be much less expensive than traditional spring breaks, and can provide some special experiences for students.
"You have a great deal of fun, and help people at the same time. What is there not to love?" said Mahar.
Spring break will be the second trip this school year to assist in the cleanup after Hurricane Ike. BonaResponds sent 22 volunteers to Bridge City, Texas, over winter break to help with jobs such as removing trees and gutting houses to prepare them for rebuilding.
Also over break, Mahar noted, several local workdays were scheduled. Local volunteers helped build a home in Friendship, N.Y., an ongoing project for BonaResponds.
BonaResponds, created after Hurricane Katrina, aims to get students involved in volunteer work locally and at sites across the country.
The organization is based on Hands On Disaster Response. It does not require volunteers to make a long-term commitment or to pay any dues. Anyone can show up for just a day or can volunteer for every project.
Mahar said all skills and skill levels are appreciated, whether it's construction or cooking.
National service is often offered in areas hit by natural disasters such as hurricanes. Locally, work has included painting hospitals and schools, volunteering at the SPCA and many other tasks.
"There are so many reasons to participate I do not even know where to begin!" said Mahar.
Number one, he added, is the ability to help people.
"This is a great feeling and you help others get back on their feet or help the community look better," Mahar said.
"You also learn new skills, meet a great group of people, gain valuable skills as leaders, have something to put on your resume and have a lot of fun while doing it. I cannot say enough about it. Try and you will like it. It is easily the most rewarding thing you can do," he added.
Information about the group and its projects can be found on the BonaResponds blog, bonaresponds.blogspot.com. Pictures, videos and information about past and upcoming projects are also on the blog and at www.bonaresponds.org.
-Elisabeth Witter
Class of '11