Resident assistants help students adjust to campus
St. Bonaventure faculty are not the only ones watching freshmen move through changes during their first year of college.
Their resident assistants (RAs) also enjoy watching the growth and change during the first year.
"My favorite part of being an RA is getting to know people's personalities and seeing their transition from high school to college. It's very interesting," said Amy Button, an RA for the third floor of Robinson Hall.
Button is a junior psychology major who plans to graduate early and attend graduate school.
Lisa Aeschbacher, an RA for sophomores in Doyle Hall, agreed.
"The best part about last year was you had a floor where you're assigned to so many different people, and this year they come to visit. It's rewarding seeing them grow into awesome people," said Aeschbacher, a junior English major.
The primary duties of RAs are to act as authority figures to their hall mates and to help guide their fellow residents. RAs are responsible for watching over their floor mates and helping them whenever possible.
An RA's role varies with the population of her floor, and whether she is working with another RA.
"You have to sit duty at least once a week, and sit a weekend once a month. You have to do two active programs and one passive program," Button said.
An active program requires residents to be present and involved in the program. Movie nights would be active programs. A passive program is educational; posters, bulletin boards, fliers and pamphlets are all examples of passive programs.
Both kinds of programs are designed to meet two major goals.
"An RA's job is to help build a community and make sure everyone is comfortable on the floor," Button said.
If your student is interested in becoming an RA, encourage him to watch for the interest meetings that will be scheduled.
Prospective RAs go through an application and screening process. That process consists of two interviews, including one at which a residence director and a current resident assistant are present.
Only about 40 students are chosen to be RAs.
"Most RAs start their sophomore year," Aeschbacher said, adding it would be rare for a freshman to become an RA.
For students who are chosen, the job isn't always easy.
"Sometimes people make extremely bad life choices and that's when we have to deal with them. We see firsthand how dumb people can get, but I don't regret doing it at all," Aeschbacher said.
Still, she, like most, feels the job is worthwhile.
"I am fascinated by people's different stories that make them who they are," Aeschbacher said.
Button agreed.
"I had a really good relationship with my RA as a freshman and I wanted to be like her. I have no regrets. I'm applying to grad school but if I can I will most definitely be an RA again," she said.

-Shana Hurley
Class of '11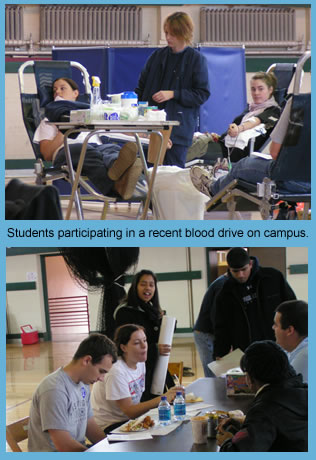 Grades: What does it all mean?
Your student's grades will be available via my.sbu.edu on Dec. 18. But what do those five or six letters mean to your student's academic career?
St. Bonaventure uses a grading system that ranges from A to F, with quality points allocated to each of those grades. Faculty members may add a plus or minus to each of the letter grades (except there is no plus for A and no plus or minus for F).
Grades and the quality points allocated for each are as follows:
| | | |
| --- | --- | --- |
| A: 4.0 | B-: 2.7 | D+: 1.3 |
| A-: 3.7 | C+: 2.3 | D: 1.0 |
| B+: 3.3 | C: 2.0 | D-: .7 |
| B: 3.0 | C-: 1.7 | F: 0 |
A calculator to compute expected grade point average (GPA) can be found on the University Web site at http://www.sbu.edu/campus-life.aspx?id=14298&terms=gpa. Even before your student sees her actual grades, she can use the calculator to get a sense of what her GPA might be when the grades are posted.
The University expects all students to maintain a 2.0 cumulative average and a 2.0 in their majors. For students in elementary or physical education, their programs require GPAs of 3.0. Other programs and financial aid awards have different GPA requirements.
Any student whose overall cumulative average falls below a 2.0 will be automatically placed on academic probation.
Some students failing to meet certain academic standards will be liable for academic dismissal. Students facing dismissal at the end of their first semester at St. Bonaventure may be offered placement in the Academic Restoration Program. Under that program, the student must agree to complete certain requirements, including weekly meetings with staff at the Teaching and Learning Center. Additional information may be found in the Undergraduate Catalog.
Students earning a GPA of 3.25 or above will be named to the Dean's List.
You may see two other grades in your student's grade reports. A W means the student withdrew from the class without academic penalty. An I means the student did not complete work in the class. He will earn no credit and receive no quality points until the work is completed and a grade is issued. The deadline for finishing that work is three weeks before the last day of classes of the following semester.
Remember, grade reports are only sent to parents if the student has signed a waiver of his rights under the Family Educational Rights and Privacy Act.
Festival of Trees an opportunity for students to give back
St. Bonaventure celebrated the season and some members of its local community during the annual Festival of Trees, held Dec. 3 in Doyle Hall.
The Festival of Trees is sponsored by Bona Buddies. At the celebration, local families get donated gifts and a chance to receive a decorated Christmas tree.
Della Moore, director of Bona Buddies, said the Festival of Trees is a way to bring the campus and the community closer together.
"The Festival is a good way for the University community to show support for the community," she said.
At the end of the night, families have the chance to win a Christmas tree for their home, Moore said.
"We ask the University community to donate $25 for a tree," she explained. "Then, at the end of the party the trees are randomly given to families who otherwise may not have had them."
Bona Buddies and other campus groups can "adopt" a child and donate money to get them a gift they want for Christmas.
"We get help from university clubs, students, organizations, teachers and the whole campus community," Moore said.
Moore says the Festival of Trees has shown the spirit of Bonaventure students.
"I've seen firsthand the way students go into their own pocket to donate money and 'adopt' children and I think that's way cool," Moore said. "I think it shows the giving spirit of the Bonaventure community."
-Lauren Adams
Class of 2011