DEAR PARENTS AND FAMILIES OF
NEW ST. BONAVENTURE STUDENTS:
There is much excitement on campus this week - our new freshmen and transfer students have arrived, and we are thrilled. Move-in day was busy, and we saw many weary Moms and Dads…but we hope that your questions were answered and your son or daughter is settled. We are so glad that many of our commuter students were part of the hustle and bustle of that first day!
During our Welcome Days program, an extension of Orientation, we made every effort to continue to help our new SBU students get settled and become part of the University and ease the transition to college life.
I hope you know that we all share some of the same nervousness that you might be experiencing - that positive, nervous energy that accompanies a new beginning. Even though we greet new students every fall, we all recognize that each entering class is different. It's a new beginning for your family and for us. We are delighted that we'll be going through it with you - together.
Please be sure to make frequent visits to our Parents' Web site at www.sbu.edu/parents.We are open to suggestions as to how we might improve it. Don't hesitate to contact us at parents@sbu.edu.

You can expect to receive periodic e-mails from us that will update you on campus happenings.

On behalf of our entire community, welcome to our Bonaventure family. We look forward to seeing many of you again later this month at Family Weekend.
Best regards,

Dr. Nancy Casey
Director, First-Year Experience Program

WHAT'S GOING ON . . .
Upcoming events on campus include:
Friday, 9/4 - Karaoke Night in the Skeller
Friday-Sunday, 9/4-6 - Men's Tennis Fall Invitational
Saturday-Sunday, 9/5-6 - BonaResponds in Gowanda and West Valley
Saturday, 9/5 - Freshman Class Block Party
Saturday, 9/5 - Madden 2010 Tournament in the Skeller
Sunday, 9/6 - Women's Soccer vs. Buffalo
Sunday, 9/6 - The Bona Venture Interest Meeting
Monday, 9/7 - Last day to add/drop
Monday, 9/7 - Student Government Association Meeting
Monday, 9/7 - WSBU Interest Meeting
Tuesday, 9/8 - Men's Soccer vs. Houghton
Tuesday, 9/8 - "Rory O'Shea was here" movie screening - Passport Event!
Tuesday, 9/8 - Team Bona's Interest Meeting
Tuesday, 9/8 - Franciscan Heritage Program in Perugia, Italy Interest Program
Tuesday, 9/8 - Financial Aid for Study Abroad Information Meeting
Wednesday, 9/9 - Student Organizations Fair
Wednesday-Thursday, 9/9-10 - American Red Cross Blood Drive
Wednesday, 9/9 - Business Information Systems Club Meeting
Thursday, 9/10 - Semester in Washington, D.C., Interest Meeting
Saturday, 9/12 - Campus Activities Board (CAB) Travel - Cleveland Indians Baseball Game
Saturday-Sunday, 9/12-13 - BonaResponds Local Service Day
Saturday, 9/12 - Women's Spirituality Day at the St. Elisabeth Motherhouse
Friday, 9/18 - Men's Soccer vs. Canisius
Sunday, 9/20 - Undergraduate Admissions Open House
Friday-Sunday, 9/25-27 - Family Weekend
Saturday, 10/24 - CAB Travel - Cedar Point
:: learn more
:: send a comment
TALKING TIPS
Are you wondering what your student might be experiencing during his/her first week at school? Here are some conversation starters to help you learn:
What's the biggest difference you're seeing between your high school classes and your college classes?
What did other students think of the All Bonaventure Reads selection "Listening is an Act of Love"?
What clubs or organizations are you thinking of joining? (And pass on the recommendation to do no more than two.)
Are you going to attend the Student Organizations Fair on Wednesday, September 9?
Have you talked to any of your faculty yet outside of class?
Does your textbook have a Student Guide attached to its Web site? Check the introductory pages or the back cover for the Web address and links.
Have you found a regular time in your daily schedule for studying? Where are you studying?
Have you entered important dates into your SBU Planner?
What Passport Events have you attended?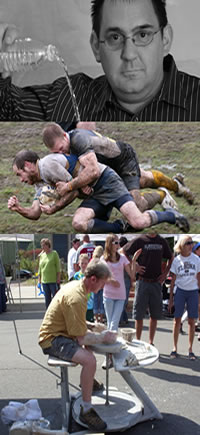 Click here to see the
Family Weekend schedule
for Sept. 25-27!