For community, acceptance and renewal, students need just climb the Mountain
Some students have a more difficult time adjusting to their St. Bonaventure University journey than others.
George Roland, a junior journalism and mass communication major from Falls Church, Va., was one of those students.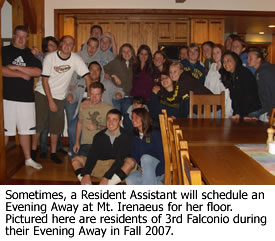 "I've always had a close-knit family, and leaving them behind was really tough," Roland recalled about his freshman year experience. "I had a hard time reaching out to people, particularly since I didn't have a roommate and I didn't know anyone else at the school."
Because he was at St. Bonaventure, though, Roland was able to take advantage of an opportunity not afforded at other universities — a whole other world in which to form bonds and a sense of community.
About 40 minutes from campus, located on a foothill of the Allegheny Mountains in West Clarksville, N.Y., sits a 304-acre plot of land called Mt. Irenaeus. Since 1984 (1989 in its current location), Fr. Dan Riley, O.F.M., and a group of Franciscan friars have cultivated "the Mountain," as the university community refers to it, into a peaceful and serene retreat for people from all walks of life.
Students who visit the Mountain are treated to homemade meals and fireside relaxation within the wood-framed, 62,000-square-foot House of Peace, the year-round home of Fr. Dan and four other friars. Visitors also participate in spiritual conversation and/or Mass at Holy Peace Chapel, a small, intimate building overlooking the main house. Most of all, the Mountain provides students with a place to rejuvenate in a spiritual, natural setting — and the opportunity to bond with their peers on a different level.
"Our intention wasn't to establish a monastic place of a strict program, but rather a place for renewal and prayer, so we can go back into the world again," Fr. Dan said in an interview for a 2004 piece on Mt. Irenaeus in St. Anthony Messenger (a Catholic magazine from the Franciscans) .
From the moment they even become prospective Bonaventurians, students are invited to spend time at the Mountain.
"We hold three to four events for students before they even decide if they want to come here," said Fr. Dan, the guardian of the friar community at Mt. Irenaeus. "Then we host pre-orientation events and an event on the Sunday of Welcome Days that usually attracts 70 to 90 students. Those events really help students to bond with each other and find a sense of home and community."
For students like Roland, trips to the Mountain during the often difficult first semester can play an integral role in making it through the difficult college transition.
"The first time I went to Mt. Irenaeus was the first weekend I spent here," he said. "I had spent the entire week in my room by myself except for meals, and I was desperate to get off campus any way I could. My first impression was very comforting. It felt like home in a way that my dorm room didn't."
Roland said that first Mountain weekend greatly helped his confidence in a new setting.
"I became a lot more open and optimistic, socially," he said. "When everyone talked so openly at the chapel, I felt a connection to the other freshmen and made friendships I still have to this day."
Fr. Dan said he has found that freshmen who discover the Mountain often cite it to him later as one of the reasons for their decision to enroll at St. Bonaventure.
"A student from California told me that his first Mountain overnight was the reason he confirmed his faith," he said. "That both surprised and delighted me."
On campus, Students for the Mountain (SFM), a student-run group for ambassadorship and spiritual growth, meets weekly with the friars and plans a variety of evenings away, overnights and weekends away for St. Bonaventure students. Roland, a SFM member for five semesters, plans the annual camping overnight and Family Weekend events and helps with others.
Mt. Irenaeus' friars do their part, too. Fr. Robert Struzynski, O.F.M., who took up residence at the Mountain in 2005, organizes trips for classes of University 101, St. Bonaventure's mandatory course in adjusting to college life.
But it's the students themselves who are often the Mountain's best source of publicity within the University community. Just within the past year, five letters to the editor have appeared in support of Mt. Irenaeus on The Bona Venture's opinion page. They have titles such as "Mountain Visits Are Always Worth It" and "Mountain Helps Ease Student's Nerves," and speak to Mt. Irenaeus' calming effect on students' hectic lives.
So much of adjusting to a college lifestyle comes with finding one's niche within a new community. At St. Bonaventure, students are fortunate to have a spiritual avenue they likely would not have at other schools.
Calling it a "retreat" doesn't adequately touch on Mt. Irenaeus' real draw.. Fr. Dan and the Mountain's friar community have worked to make it a place where students feel as if they are home, not in a temporary place of respite.
"The environment up there is so open and non-judgmental, I don't know of anywhere else that even compares," Roland said. "It makes you feel good just to go up there, have a good, home-style meal, spend a little quality time talking and relaxing, and then have a great night's sleep."
For more information on Mt. Irenaeus, visit www.mounti.com or visit University Ministries.
- Jordan Steves
Class of '09
Resident assistants play an important role
Adjusting to life as a college student can be difficult. Life on a college campus can sometimes be overwhelming and freshmen may not be certain where to go for help.
But help can be available as close as their residence hall. Resident assistants (RAs) are available on all floors to offer support, help students in need, provide programming and enforce campus policies. RAs are part of the Office of Residence Life, which also includes the director, associate director and residence directors.
RAs, explained Chris Brown, associate director of residence life, are "students who want to help." Brown said the RAs' roles also include enforcement of policies and notifying residence directors of any problems on the floors. They are also responsible for serving "duty" in their building to provide students with someone to contact with any problems.
Sophomores and juniors commonly serve as RAs on freshman floors.
"They remembered what is was like to be a freshman and what their RAs did that helped them, and more importantly, what they did that didn't help," Brown said.
Ellen Grimes, a junior and a second-year RA in Falconio Hall, is happy with what she does.
"I fell in love with Bona's, and being an RA allows me to help others fall in love with Bona's." Grimes continued, "It's worth it."
Amber Pietrobono, also a second-year RA, believes being an RA has helped her as much as she has helped her residents.
With her experience as an RA, "I have become more comfortable speaking in front of large groups, and I have learned a lot about coordinating events, which helps with what I want to do when I graduate," Pietrobono said.
Resident assistants hold events for their residents throughout the year. Pietrobono said events on her floor have included "Pizza with the President" and educational programs, including one in which Brown and Nichole Gonzalez, director of residence life, offered advice on situations students may face involving sex and alcohol.
"It is hard to get residents to come to an educational meeting," Pietrobono said. "When it's fun, it is a lot easier."
The process of becoming an RA involves a written application, with recommendations from on and off campus, Brown explained. Applicants must also go through a multiple-step interview process.
A parent who needs to contact Residence Life may reach them by phone at 716-375-2512.
- Michael Postles
Class of '08