BonaResponds
BonaResponds is tackling projects from Buffalo to the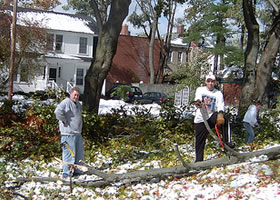 Gulf Coast to show that even small groups can make a big difference. The group first organized around relief efforts to the Gulf Coast after Hurricane Katrina, but it has recently expanded its efforts to a variety of local projects.
On its first two local service projects, BonaResponds was able to provide approximately $7,000 worth of services to the local community on a budget of about $250. The group responded to damage done in Buffalo and many of its surrounding suburbs by a weekend-long snowstorm on Oct. 12 and 13. A state of emergency was declared after 2 feet of snow damaged trees and power lines and left almost 400,000 homes and businesses without power. More than a dozen deaths have been blamed on the storm.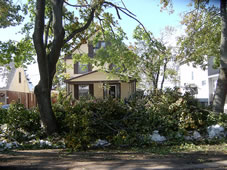 When the travel ban was lifted, SBU finance professor Dr. Jim Mahar took several students to Lancaster on Oct. 15 to aid the storm victims. Members of BonaResponds reflected on the experience with one another afterward. On the next Buffalo trips, about 5 dozen volunteers worked at 40 sites in the region to clean up debris and help residents pick up their lawns.
The group's dedicated volunteer leaders and members find the service a truly rewarding and even life-changing experience. Freshman Timothy Butler joined BonaResponds for the first time in Lancaster, and is now going to become a leader for the group.
"My first and only trip was to Buffalo just recently. We helped clear all the tree debris from people's yards," Butler said. "This was a very rewarding experience because of the reactions we got from people. For example we were at this one house and an older lady was there who came out and started talking to us while we were clearing what looked like an immovable mess of tree debris from her yard. She was telling us how much she appreciated us being there and she went on to tell us why she and her husband couldn't have done this themselves. She told us that her husband needs a kidney and he is in very bad shape. As she was saying this tears began to build in her eyes and shivers ran down my neck. That's why we do community service; that's what makes it worthwhile."
Members of BonaResponds also find that the community service work is a nice break from schoolwork and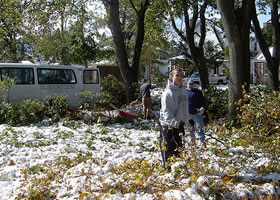 classes.
"The thing that I liked the most about the day, besides helping people, was that I was able to take my mind off of all of my school work, projects, and tests that I have coming up in the next few weeks," student Anthony DiMario said. "Despite all of the physical work, it was the most relaxed I have been in a long time."
In addition, helping victims of natural disasters gives BonaResponds volunteers perspective on life's challenges.
"No matter how busy I get with school work, it will never be as bad as some of the challenges caused by the recent snow storm that a lot of people in the Buffalo area have to deal with," DiMario said. "They were truly grateful for the help and it makes me think that I sometimes take for granted how well my life is going right now."
Butler agreed that the response of the affected citizens affirms the volunteer's endless efforts to help.
"On the bus ride home from there that night, I just sat there thinking about the impact we just made on people's lives and how I wanted to keep doing things like this," Butler said. "I am hoping to go down to Mississippi at some point this year, and I plan on helping out with any other natural disasters that come up for the next four years."
BonaResponds is returning to Buffalo this Sunday and is planning other service trips January 2-12 and March 3-11 (Spring Break). If you are interested in learning more about BonaResponds, please visit bonaresponds.org.
-Katelyn Dieffenderfer
Class of '09
Counseling Center Provides Help for Students

The first year of college requires a great deal of emotional adjustment. St. Bonaventure University's Counseling Center is one place that can help first-year students deal with these changes.
The Counseling Center is located on the second floor of the Reilly Center. Its director and three full-time counselors provide counseling and run events for the students, explained Cathi Beatty, a counselor at the center.
"The Counseling Center is very important for freshmen as they adjust to life at college. Freshmen are facing a lot of transitions, and it can be very overwhelming," Beatty said.
Beatty said the center offers individual counseling, group counseling and crisis intervention. Students can sign up for individual or group counseling sessions on a regular basis or whenever they need it. The center also works with the Residence Life staff to provide crisis intervention. All these services are completely free and confidential.
Besides counseling services, the Counseling Center also runs events and programs for students, Beatty said. The center holds "Stress-Free Nights" around the major holidays, such as Halloween, Christmas, Valentine's Day and Easter. These evenings give the students a chance to relax and have some fun.
Center staff also occasionally runs programs on individual residence floors, Beatty said. Resident Assistants Kaitlyn Keidel, in Loughlen, and Peter Aldridge, in Shay, hosted a "Stress-Free Night" for all freshmen, typical of the Counseling Center floor programs.
The Oct. 30 Stress-Free Night, held in the lobby of Shay-Loughlen, provided a sample of the stress-free nights that are held at the Counseling Center, Keidel said. It consisted of crafts, movies and snacks.
"The Stress-Free Night gave our residents a chance to relax and just have some good wholesome fun," Aldridge said.
Keidel and Aldridge agreed that the program was well attended and that the response from the freshmen who attended was overwhelmingly positive. Keidel said many asked if there would be another stress-free night.
"This program was a huge success and we are planning to host it again next semester," Aldridge said.
A different type of program, also involving the Counseling Center, was provided on the third floor of Falconio Hall. Resident Assistants Anna Omoregie and Amanda DiPasquale coordinated the program, which featured a talk by Beatty on healthiness of body, mind and spirit. It was an interactive talk, giving residents the chance to make comments and ask questions.
That program was also well attended, and the freshmen who attended interacted and responded well.
"[The program] made me aware of [the Counseling Center's] presence," said Eileen Gorczynski, a resident on the third floor of Falconio.
That awareness can remind a student that the Counseling Center can provide help as needed with the adjustment to college life.
-Emily Marsh
Class of '09