All Bonaventure Reads editor addresses freshman class

Dave Isay, editor of "Listening is An Act of Love" and founder of the Story Corps project, addressed the Class of 2013 in the Reilly Center on Oct. 29. "Listening" is the book selected for this year's All Bonaventure Reads program. The book has also been incorporated in a variety of ways in many freshman Univ 101 classes.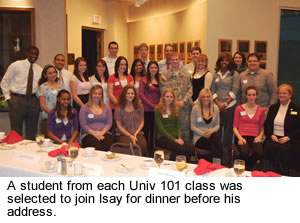 Isay spent much of the afternoon and evening on the campus of St. Bonaventure. He was welcomed by the Class of 2013 officers and was given a tour of the university. A select group of students were also selected to dine with Isay before he addressed the Class of 2013 as a whole.
Jessie Briggs, Class of 2013 president said, "Throughout the meal, Dave answered as many questions as he could about the project, the book and his experiences and encouraged everyone to become involved. The session also was an intimate experience when Isay initiated a discussion of who each attendant wished they could interview."
Also at the dinner, Isay announced he has just finished a sequel to "Listening." The book, titled "Moms," will concentrate on stories about mothers. The scheduled release date is Mother's Day of 2010.
Later in the evening, Isay addressed the entire Class of 2013 and other guests in the Reilly Center. Isay played a variety of the stories that were recorded in Story Corps facilities, including some which came directly from "Listening." Between stories, Isay reflected on each and allowed students to ask questions about the Story Corps project.
Benjamin Freeland, vice president of the Class of 2013, said, "I particularly enjoyed his intimate conversations and his down-to-earth personality. It was nice to witness a mutual level of respect. He didn't talk over our heads, nor did he speak to us like children. Overall, the day was a great success, and I feel that his message was well received from the audience."
Isay encouraged everyone to take part in the National Day of Listening that is held each year the day after Thanksgiving.
"It will only take an hour to interview someone you love, or someone who has made a difference in your life," he said. "It makes for a present that will last a lifetime."
Isay also left the Class of 2013 with an idea he has discovered since he has started the Story Corps project: "People are generally good… the stories that you hear on the news do not show the real America and do not represent general American lives."
St. Bonaventure University is currently in its fourth year of the All Bonaventure Reads project.
-Robbie Chulick
Class of 2013
____________________________________________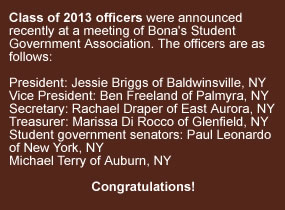 Course registration
The voice on the phone is somewhere between nervous and panicked.

"Mom? Dad? I have to register for classes in a few weeks and I have no idea what I'm supposed to be taking ... and I register on the last day 'way late ... and everything's going to be gone ... and what do I do?"

Here's where you pull several hints out of your parental bag of wisdom.

First is that long-standing Mom and Dad suggestion: Tell your student to take a deep breath and be calm. Remind him that he's already handled a lot of first times and that this one, his first time registering for college courses, is also manageable.

Then refer him to two resources readily available for him at Bona's. The first is my.sbu.edu, the University's in-house Web site that provides links to a variety of resources. One of those, under "general links," is "search for classes." There, he can find information on all the courses being offered in the spring 2009 semester. The link is also available in the "student links" section, under "register for classes." In that same area is a link to "registration information," which provides the date and time your student can register and information on who his adviser is and where she can be contacted.

Also under the student links section is a link to "degree audit." That document tells your student what courses he will need to graduate and what courses, if any, he has already received credit for. Any course listed as "IP" is a course he is taking right now. Courses listed as "TE" are ones for which he has received transfer credit, possibly from AP courses in high school.

The second important resource is his adviser. She can help him understand what he's seeing on the degree audit and suggest which courses would be best for his next semester. She can also discuss with him questions ranging from changing a major to deciding on a minor to working on classes in which he is struggling. Many advisers have posted sign-in sheets on their door for students to set appointments to talk about registration. If your student's adviser has not done so, he may want to contact her to ask when he can sign up.

When your student signs up, he should be certain to put the date and time in his planner, so he does not miss the appointment. If his adviser does not have a time on the sign-up sheet that will work, encourage him to contact her by e-mail and ask what other times might be available.

Under the current University registration system, students enter their own courses online. They may place courses into a "wish list" on my.sbu.edu, but they cannot actually register until they reach the pre-selected time and date. Even then, the student will not be allowed to register if he has not met with his adviser or if he has a hold placed on his account by the business office, the registrar's office or health services. Those restrictions will be visible via the "registration information" link; a student who sees any of them should act to deal with the restriction as far before his registration date as possible.

Because your student is a freshman, it is very possible that he may be closed out of some classes he hoped to take. His adviser can tell him which classes are offered every semester or every other semester, and what would make good options if his first choices are closed. Remind him that he may not be able to find exactly the class times he would prefer, but keeping in mind the times he is most and least alert may help him succeed, especially in a class in his major or in an area he finds difficult.

Those two resources — my.sbu.edu and your student's adviser — plus a healthy dose of his own common sense will allow him to register without unmanageable problems. And by this time next semester, the whole process will look considerably easier.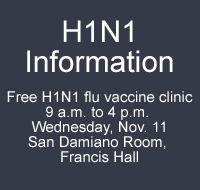 Home away from home
Your student will spend much of the year living in a residence hall. Bona's residence directors and assistants want to make your student and her classmates feel at home in that residence hall. That goal led to creation of the residence hall decorating and naming contest.
The contest was held for the first time last spring, explained Gesina Traub, residence director for Shay and Loughlen halls. This year, students had about two weeks to prepare decorations when the contest was posted.
"We wanted students to start having ownership in where they lived and protecting where they were living and really forming those community relationships," said Traub.
Resident assistant Brittany Feldmeyer, a sophomore undeclared major, said the residents of second Robinson, her floor, were enthusiastic about the contest. Feldmeyer said the theme that her residents chose was "Under the Sea." Decorations for their floor included streamers hung to look like seaweed, a newly painted lounge and life-size drawings of popular under-the-sea animated characters such as Nemo and SpongeBob. In addition, each resident got a chance to leave her personal mark on the floor.
"In the lounge, everyone made a fish and put a name on it," said Feldmeyer.
Feldmeyer said her floor spent three days working on the decorating contest. After a haunted hay ride floor program, her residents couldn't wait to get back to work.
"They kept asking if we were going to go home and work on the lounge," said Feldmeyer.
Traub said the judging for the contest involves three St. Bonaventure staff members and has no set criteria. This year's judges were Student Life Vice Provost Rick Trietley, Athena Silluzio from the Office of Safety and Security and Beth Eberth from the Office of Marketing and Communications.
The judges' top pick this year in the house-decorating contest was second Shay, whose theme, "Don't Hate the Playa, Hate the Game," used board game decorations. The two runners-up for the contest were second Robinson, "Under the Sea," and fourth Loughlen, "Disney Dreamhouse."
Second Shay also won the house naming contest. Third Fal won the green initiatives contest with its theme, "TropiFal."
-Kaitlin Lindahl
Class of 2012
___________
SBU student have a subscription to the online magazine Student Health 101. There is a parent companion piece for you! Access this online magazine.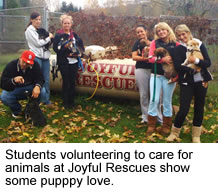 First-Year Service Program
One semester into their college careers and St. Bonaventure freshmen have already visited the Gowanda Correctional Facility—as volunteers, of course.
The First-Year Service Program places freshmen in volunteer positions at local organizations including nursing homes, homeless shelters, pet shelters, soup kitchens and correctional facilities.
Gina Oldani, coordinator of the First-Year Service Program, said freshman volunteers are asked to devote about five hours per week to service. They also attend a weekly one-hour reflection period with their group leaders to discuss the past week's activities and decide where to volunteer the following week.
Oldani said 30 freshmen have signed up this semester for the program. They volunteer to walk dogs for the SPCA and Joyful Rescues, entertain nursing home residents at Absolut Care of Allegany, and flip beds at the Genesis House (an Olean homeless shelter), along with other community service projects.
Freshman Alyssa Lombardi said she learned about the program in her Univ 101 class and so far has worked at the SPCA and Joyful Rescues. She said freshmen especially should volunteer locally.
"It's important for freshmen to get involved in community service because it is a good way to familiarize yourself with the community and area while helping others in need," Lombardi said. "It is also a good way for you to meet new people and gain friendships."
Junior Kate Berardino, a group leader and two-year veteran of the program, volunteered at Absolut Care her freshman year. More recently she helped coordinate a bake sale to benefit the SPCA and Joyful Rescues and painted a battered women's shelter in Salamanca.
Cydney Kramer, a sophomore group leader, said she and the freshmen she works with have cleaned up debris along the Allegheny River Trail and walked dogs for Joyful Rescues. Kramer stressed the importance of becoming involved in service projects.
"What is really great about working with the freshman class members is I have the opportunity to encourage them to continue volunteering for the next four years," she said. "By showing them how this is possible, we can make sure we are continuing the Bonaventure tradition."
While some freshmen may feel a little anxiety when it comes to volunteering, doing so yields big rewards.
For freshman volunteer Jessie Briggs, it's for the friendships and connections.
"Community service … creates a bond between you and the community. Giving back is a wonderful feeling, reminding you that there are people who do things from the heart," Briggs said. "I volunteer because it helps me feel connected. I like the thought of kindness between strangers."
For more information on the First-Year Service Program, have your student contact Gina Oldani at oldanigm@sbu.edu or stop by the Thomas Merton Center.
-Shannon Holfoth
Class of 2010
WHAT'S GOING ON . . .
Upcoming events on campus include:
Tuesday, 11/3 - Darts Tournament in the Skeller
Wednesday-Saturday, 11/4-7 - Shakespeare's As You Like It, Garret Theater
Wednesday, 11/4 - Dinner and movie in Hickey Dining Hall
Wednesday, 11/4 - Wii Wednesday in the Skeller
Thursday, 11/5 - Last day to withdraw from an undergraduate course with a W grade - If your student is planning on withdrawing from a course, make sure he knows how it will affect his full time status, financial aid, participation in athletics, and anything else tied to college enrollment. The student should contact personnel in these offices to determine how he might be affected by a course withdrawl.
Thursday, 11/5 - Comedian Adam Ace in the Skeller
Friday, 11/6 - Women's basketball vs. Mansfield and Men's basketball vs. Mansfield
Friday, 11/6 - Karaoke in the Skeller
Saturday, 11/7 - Men's and Women's Swimming and Diving vs. Duquesne and LaSalle at ECC in Buffalo
Saturday, 11/7 - The Mountain Auction to benefit Mt. Irenaeus
Sunday, 11/8 - Men's Soccer vs. Dayton
Monday, 11/9 - 35 cent wing night in the Skeller
Tuesday, 11/10 - Ping Pong Tournament in the Skeller
Wednesday, 11/11 - H1N1 Flu Vaccine Clinic
Wednesday, 11/11 - 35 cent wing night in the Skeller
Thursday, 11/12 - Mt. Irenaeus Evening Away
Thursday, 11/12 - Jazz and Wings night with the "Les Sabina Jazz Sextet"
Wednesday-Thursday, 11/12-13 - Freshman Registration
Friday-Sunday, 11/13-15 - Mt. Irenaeus Intercollegiate Weekend Away
Friday, 11/13 - Men's basketball vs. Cleveland State
Friday, 11/13 - Bands 77 Gypsy Meadow and Marco Polo playing in the Skeller
Friday, 11/13 - Damietta Fashion Show in QCA
Sunday, 11/15 - Women's basketball vs. Akron
Sunday, 11/15 - SBU Chamber Music Concert
Monday, 11/16 - 35 cent wing night in the Skeller
Tuesday, 11/17 - Billiards Tournament in the Skeller
Wednesday, 11/18 - Mt. Irenaeus Evening Away
Wednesday, 11/18 - Dinner and movie in Hickey Dining Hall
Wednesday, 11/18 - 35 cent wing night in the Skeller
Friday, 11/19 - Ethos Percussion Group
Friday, 11/20 - Men's basketball vs. Binghamton
Thursday, 11/20 - Karaoke in the Skeller
Friday-Saturday, 11/20-21 - Women's Overnight at Mt. Irenaeus
Saturday, 11/21 - Open Mic Night in the Skeller