Dear Parents:
Just one year ago, your family was in the final stages of making that all-important (and probably very stress-inducing) decision about where to send your high school senior to college. A great deal has happened in the past twelve months, and I suspect that as you look back on that time, you are filled with amazement and even some awe. Those of you who are first-time college parents have probably seen changing family dynamics as your son or daughter navigated the first year of college life – independence, decision making and developing new friends and habits. Those "seasoned" college parents among you have, we hope, enjoyed watching your next college student blossom.
In almost a blink of an eye, the year is over. Can you believe how fast it went? Your child's first year of college has likely been filled with challenges and successes. There have been trying moments as well as triumphs. As summer approaches, be ready for yet another transition. After a year of college life and independence, the first summer home will be yet another transition for all in your family as your newly independent college student re-enters the day-to-day life at home.
I hope your son or daughter has had a great year becoming a Bonnie and that the First-Year Experience we provided was a catalyst for growth and support during this transitional year. While next year will present its own challenges, we think you will see that your student is ready for them and that the support available from the SBU community will help him or her meet each new challenge with poise and determination.
Along with all of us at SBU, I wish you a wonderful summer and look forward to welcoming your student back in August for a great second-year experience.
Nancy Casey
Director, First-Year Experience
______________________________________________________
Headed home for the summer
While class days dwindle, students have a tough time trying to get everything done and make time for fun, too.
Classes end April 30. Final exams begin May 2 and end May 7. Fear not, mothers. Freshmen should be home in time for Mother's Day; early enough, in fact, to do some shopping.
In these remaining days, however, freshmen face many challenges. Their first Spring Weekend, the first test they've taken on a Saturday morning since the SAT and, most importantly, extending the length of a day so they can spend time studying and having fun with their friends.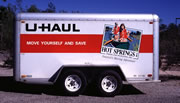 Although most freshmen are excited to get home and away from the stress brought on by the end of the semester, they are also slightly nervous about leaving the 'BonaBubble.'
Freshman Shana Hurley said she missed her family, and she wants some time to do nothing.
"I'm looking forward to seeing my family because I miss them and not having to write papers and study," she said.
Before freshmen head home, they will face one more major hurdle: saying "good-bye" to Bonaventure.
Once they get home, they face another big obstacle: adjusting again to life at home.
Hurley, who lives about six hours from Bonaventure, in Sparta, N.J., said she's nervous about losing the freedom of being on her own and making her own schedule.
Her classmate, Katie Sweeney, agreed.
"I'm going to miss the ability to do what I want to do, when I want to do it," she said.
Sweeney, who lives on Long Island, is excited to get home to her car and the beach.
She loves her parents and misses them dearly. She's not excited about being away from Bona's and having a curfew, but can't wait to tell her parents, who both graduated from St. Bonaventure, stories that are uniquely Bona's.
Most importantly, Sweeney said her parents will understand missing Bonaventure is different from missing other schools.
"They'll understand how much I miss it because they went here, and that will make being away easier," she said. "I'm glad they won't be offended because I miss college so much."
Sophomore Allison Gould spent the year living with freshmen as an FYE peer mentor. Gould's father, like Sweeney's, graduated from Bona's. She said being away from her parents enriched her relationship with them.
"Because I've been away from them, I started to get along with them better," she said.
Sophomore Ryan O'Reilly found it a bigger challenge. He said living under his parents' roof was a challenge because he had to live with the same rules he had in high school.
He said the best piece of advice he could give freshmen and their parents is not to get frustrated.
Most importantly, don't get frustrated when your adult children seem to be spending more time with their laptops than their other friends or their siblings.
Gould and O'Reilly said talking to their friends made them miss Bona's less. They both thank Facebook for keeping them in touch with their friends and their Bona family.
O'Reilly eased fears for freshmen and freshmen parents concisely.
"You'll never be out of the 'Bona Bubble' because you're really always in it," he said.
-MJ Stevens
Class of 2010
______________________________________________________