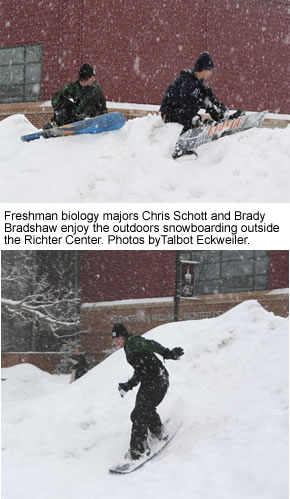 Activities abundant despite the weather
Wintertime is almost synonymous with "cabin fever." But who says staying in at Bona's is a bad thing? At St. Bonaventure, we know just how blustery a Western New York winter can be, so activities are planned for those who would rather stay indoors than brave the elements. The schedule of indoor activities on campus offers many options.
If your student is in the mood for a night at the theater, she can go see a professional production at the Quick Center for the Arts. Shows scheduled in March include a piano recital by Leon Bates and a performance by Flamenco Vivo Carlota Santana.
Students who aren't in the mood for the arts can head to the Rathskeller for a variety of activities. On Mondays, students can munch chicken wings while watching college basketball. Tuesdays, they can compete in planned tournaments.
For students who need a break and some stress relief, the Rathskeller offers themed dance parties and a line-up of comedians such as Paul Kim. Entertainers featured elsewhere on campus include hypnotist Gabriel Holmes.
Attending sporting events is always a popular winter pastime at Bona's, too. The schedule for all A-10 athletic teams can be found at www.gobonnies.com.
If your student prefers to participate in sports, he can take part in everything from intramurals to fitness classes to individual exercise at the Richter Center, the University's fitness center.
A student who wants a break from campus can get in some ice-skating at the city of Olean's recreation center. Students can skate free with a Bonaventure ID; if they need skates, those rentals are also free.

Another way to get off campus for a while is to take a trip to Mt. Irenaeus, the Franciscan mountain retreat. Day trips and evenings away are scheduled throughout the semester; check the schedule at http://www.mounti.com/calendar_events.html.
For those interested in a more serious activity, the Warming House, the University-run soup kitchen, could always use volunteers.
By February, winter's charm may be fading for your student. Happily, the chance to relax and enjoy some time doesn't depend on the season.
-Kaitlin Lindahl
Class of '12
Students involved in planning activities

Four years ago, when Amber Pietrobono was a freshman at St. Bonaventure University, an older friend asked if she wanted to attend concerts for free. Pietrobono jumped at the chance. Next thing she knew, she was not only listening to Howie Day sing in the Reilly Center Arena, she was becoming involved with Bonaventure's Campus Activities Board (CAB).
Today, Pietrobono is president of CAB. She said she originally joined as a great way to meet people and have fun. Over time, she found she could make a difference in CAB and, through CAB, on campus. Pietrobono said she wanted to improve programs available on campus and increase the student voice in programming.
As CAB president, Pietrobono's main responsibility is to provide fun and creative activities for students on the weekends.
That process often starts with e-mails sent to CAB by agencies promoting a particular act or type of entertainment.
"Then we sample it (entertainment) in front of an audience, determine the price and venue and whether or not Bona's students would appreciate the program and show up," Pietrobono said. CAB members are always balancing potential student interest in a program with the budget available to bring in entertainment.
Pietrobono works with the 50 members of the CAB organization to select entertainment, promote it and prepare for it.
"This year has been the best year since I've been here. My freshman year, we had a comedian and 25 people showed up. This year, we had a comedian and 200 people showed up," Pietrobono said.
"It's all about promotion," she added.
In addition to performances, CAB sponsors activities such as bus trips, concerts and tournaments.
Three popular destinations for bus trips are Ellicottville (home to Holiday Valley Ski Resort), Buffalo and New York City.
The trips give students "a fun getaway or provide them with a learning experience," said Stephen Kuchera, the assistant director of student activities.
The bus trips to New York City are particularly popular with students.
"In New York City, you don't feel lazy or bored," said Subodika Katurande, a sophomore biology major.
Almost all the off-campus activities offered by CAB include transportation. CAB uses a local bus company to provide transportation to the events. The organization subsidizes the price of tickets, making them more affordable.
Even when CAB isn't holding an event, the members are busy at work.
"We have meetings, create promotions, sample new music, and watch different comedians on DVDs," Pietrobono said.
Presently, CAB has eight officers who are encouraged to hold office hours in the Reilly Center. Duties during office hours include speaking with students who stop by to talk about programming.
Students do appreciate CAB's efforts.
"I think on campus there's enough to do," Stephen Ross, a freshman accounting major, said, "But I wish there were more concerts."
"I think this year there are enough options for students, but there's always room for more," Pietrobono said.
Students who have ideas, suggestions, comments, concerns or complaints about programs offered by CAB are encouraged to visit the CAB office in room 208 of the Reilly Center or to visit the CAB Web site at www.sbu.edu/cab.
-Shana Hurley
Class of '11