University president addresses freshman class
This year's All Bonaventure Reads book, "Left to Tell," by Immaculée Ilibagiza, is set in Rwanda, Africa. Sr. Margaret Carney, O.S.F., University president, addressed Bonaventure freshmen Sept. 16. In her talk, Sr. Margaret spoke of similarities between Ilibagiza and the late Don Aldo Brunacci, a Catholic priest who helped save Jews in Assisi, Italy, during World War II.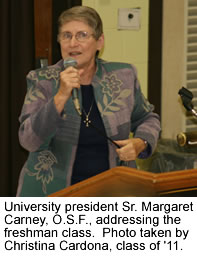 Sr. Margaret hoped both stories would inspire this generation, including first-year Bonaventure students, who she called a "new generation of heroes and heroines." Her address was required for all freshmen.
"Left to Tell" is "one of the most amazing stories of a human being that I have ever read," Sr. Margaret said. She said she hopes Ilibagiza, this "truly historic person," will become a friend of St. Bonaventure after her visit to campus, slated for Nov. 20, and will remain a friend for many years to come.
"Left To Tell" describes Ilibagiza's experience during the Rwandan Holocaust. Ilibagiza and seven other women had to hide in a tiny bathroom for three months while the members of the Hutu tribe pursued them, intending to kill them. Sr. Margaret told students she was afraid to turn each page of the book because of the horrific events described.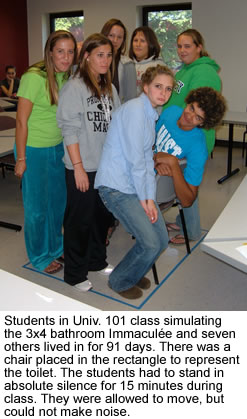 Ilibagiza survived and now works for the United Nations. She also started a charitable fund to help victims of wars and of genocide recover, according to the book.
Sr. Margaret told students Ilibagiza's story reminded her of Don Aldo's efforts during World War II. Don Aldo, a priest in Assisi, Italy, was honored by the University because he was part of an organized effort to rescue Jewish people fleeing Nazi Germany. This included collecting clothes and food for them, distributing fake identifications and hiding them in his home. He was recognized in Israel 30 years after the war as a "righteous gentile," or non-Jew, for saving the lives of more than 200 members of the Jewish community.
In 2002, the University awarded Brunacci an honorary degree and, in March 2004, St. Bonaventure honored him with its first National Gaudete Medal during a special program at the Holocaust Memorial Museum in Washington, D.C.
Freshman Mary Harner said after the speech, "I thought it was interesting to hear the kinds of people who have come to St. Bonaventure in the past and how similar their stories are even though they're from different parts of the world."
Rebecca Patrona said the speech inspired her.
"It makes you want to go out and help people; it makes you realize there are people in the world who are worse off."
-Shannon Gawel
Class of 2012
_________________________________
Leadership in freshman class
The surroundings are new, but the duties are familiar for two of the three new freshman class officers. Michelle McKernan and Emily Deragon were elected earlier this month to serve as freshman class president and vice president, respectively. The two are veterans of student government posts during their high school careers.
McKernan, who is from Olcott, N.Y., served as her class president for four years in high school.
"I've been team captain in everything," McKernan explained. "I like leadership roles."
In addition to her class office, McKernan is involved in the Campus Activities Board (CAB) and the basketball three-on-three tournament. She has also written for the sports section of The Bona Venture student newspaper.
To relax, McKernan likes watching sports competition on television.
"I want to work for ESPN with Steve Levy and do the top ten plays every single morning," McKernan said. Both she and Deragon are journalism/mass communication majors.
Deragon, from Caledonia, N.Y., was the secretary of her class for both her freshman and sophomore years in high school and vice president of her class junior year. She was also president of the Spanish club and event organizer for her high school's National Honor Society.
"I have to be busy," Deragon said.
She also has her own radio show on WSBU-FM, writes for The Bona Venture newspaper and is the advertising manager for the paper as well.
Deragon said she thinks change is "definitely a good thing, but I feel that too quick of a change is not a good thing. I think that you have to maintain a steady pace before you make a drastic change."
Serving with the two women is Ian Reynolds, a political science major from Pittsburgh, Pa., who will be the new class treasurer.
Unlike his fellow officers, Reynolds hasn't had any previous experience in student government. At Bonaventure, he has become involved in the Students for Free Enterprise and the First-Year Experience programs.
"I wanted to be involved some way," Reynolds said.
Reynolds is taking the pre-law concentration in his major and plans to become a lawyer.
-Shana Hurley
Class of 2011
University celebrates Feast of St. Francis week
Your student may have mentioned to you a "Clare class." You may have heard the phrase "Franciscan values" during orientation.
During Feast of St. Francis Week, which begins Sept. 28, your student will have an opportunity to better understand the values on which the University and the Clare College curriculum are built.
The week's events begin with the story of Francis and end with a day-long celebration of the Feast of St. Francis on Oct. 4. This year, the Feast of St. Francis also marks the 150th anniversary of the dedication of St. Bonaventure College on land donated by Nicholas Devereux.
Featured speaker for many of the week's events is the Rev. Michael Crosby, O.F.M. Cap., a Capuchin Franciscan priest who has published many books about St. Francis. He will begin the week with a Eucharist on Sept. 28 at 7 p.m. in the University Chapel, Doyle Hall.
The celebration is designed to help students, faculty, staff and community members understand the story of St. Francis.
Schedule of Events:
Sept. 28
7 p.m.: Eucharist: "Francis of Assisi: The Story of a Young Adult Finding His Voice," Michael Crosby, O.F.M. Cap., University Chapel, Doyle Hall
Sept. 29
Evening reflection at Mt. Irenaeus: "Francis: Finding Peace in the Sounds of Silence," Michael Crosby, O.F.M. Cap.
Sept. 30
10 a.m.: Class, Catholic Franciscan Tradition (class members only), "Francis of Assisi: Finding His Gospel Way, Graced Encounters with 'Otherness,'" Michael Crosby, O.F.M. Cap., Walsh Auditorium
4 p.m.: Jerome A. Kelly, O.F.M., Lecture by Michael Crosby, O.F.M. Cap., Rigas Family Theater, The Regina A. Quick Center for the Arts
Oct. 4
10 a.m.: Anniversary Walk for Service, Allegheny River Valley Trail
1 p.m.: Pumpkin Carving Contest, Magnano Center/Hickey Dining Hall Front Lawn
2:30 p.m.: Unveiling of "Bonaventure: The Magazine of St. Bonaventure University," Friedsam Memorial Library
3 p.m.: History of St. Bonaventure University: A preview of a new book by Dr. Edward Eckert, Board of Trustees Professor Emeritus, Friedsam Memorial Library
5 p.m.: Feast of St. Francis Liturgy, Bob Lanier Court, Reilly Center Arena
8 p.m.: New Orleans Jazz Tribute Concert, Honoring those who have contributed to hurricane relief efforts in the Gulf states, Bob Lanier Court, Reilly Center Arena
9:30 p.m.: Anniversary Fireworks, sponsored by Pepsi Bottling Group, behind the Reilly Center Arena
-Melissa Parisi
Class of 2011
Academic support
Let's face it. You've called your freshman student every week since the beginning of classes and asked how school was going. The response you most likely got was "good, good, good." Right?
For students, the first few weeks of school are mostly about getting to know new friends, decorating the new rooms and finding the fun places to hang out. But new college students also discover they are expected to learn material much faster. New students may be getting to every class, but are they really comprehending what is being taught?
As parents, you may have heard this many times: Your new role is to listen and give advice. If your student is finding one or more classes a struggle, that advice can include places he can find help. The Teaching and Learning Center (26 Doyle Hall) provides students with resources to help them learn and understand the material that is being presented to them.
The Center is open Monday through Friday from 8:30 a.m. to 5 p.m. Tutors are available for almost all courses. Jean Ehman, director of the Teaching and Learning Center, said if a student feels she needs help, she can come to the Center and make an appointment for tutoring. Upperclassmen who are skilled in that academic area provide the tutoring.
Students must come prepared with questions and material at the designated time for working with the tutor. The session, generally held weekly, will be one-on-one time for the student and the tutor. Students who have signed up for a tutor are expected to arrive promptly for every session.
Writing and math labs are run somewhat differently. When a student requests to have a writing lab appointment, it is as needed. The student may wish to meet once or twice during a single week, depending on when the assignment is due.
Math labs have designated hours and may be in the Teaching and Learning Center or De La Roche Hall. Times and places for math labs for each class are posted in the Teaching and Learning Center and on the Notice Board. Math labs are led by mathematics instructors who may help three or four students in a session.
Mrs. Ehman said a student should visit the Center "when he thinks things are getting difficult in the class and after he has approached his professor." She explained that "professors are the first source of help and often can steer a student to the right amount of help that he/she needs."
-Kaitlin Flor
Class of 2011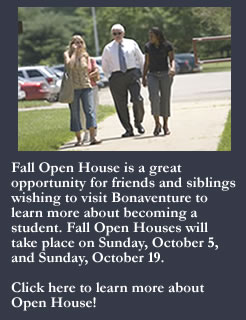 Decoding FERPA
Parents get used to automatically seeing their students' grades during elementary and high school years. But FERPA, the Family Educational Rights and Privacy Act, changes that arrangement once a student arrives at college.
Under FERPA, college students control who sees their grades and other educational information.
"The basis of FERPA is that the student's educational records belong to the student," said Ann Lehman, the registrar at St. Bonaventure. "Those records don't belong to anyone else unless the student gives permission."
Lehman said FERPA has been a federal law since 1976. Under the law, a student's grades and attendance record can not be shared with a parent or guardian unless the student has signed a waiver giving consent for release of that information to parents.
FERPA waivers are available in the Registrar's Office and can be signed by the student at any time during the year. Where students have signed waivers, parents can expect to see midterm grades by Oct. 22.
Even before grades are posted, parents should take time to talk to their students about their education, said Lehman.
"The primary conversations of academic performance should occur between the parent and the child," Lehman said. "These conversations should be occurring regardless."
More information about FERPA is given in the undergraduate catalog given to each parent at orientation.
-Lauren Adams
Class of 2011