All Bonaventure Reads author speaks to students
Immaculée Ilibagiza, a survivor of the Rwandan genocide, spoke of the horrors she experienced and her path to forgiveness to a large crowd gathered at the Reilly Center Arena on Nov. 20.
Ilibagiza is the author of "Left to Tell: Discovering God Amidst the Rwandan Holocaust." The book was this year's All Bonaventure Reads selection, making it a mandatory read for all freshmen as part of the passport program.
Ilibagiza's speech was based around the experiences she discussed in her book. In both the speech and the book, Ilibagiza told of her struggle with the tormenting forces of doubt and anger that threatened to destroy her faith while she hid in a 3-by-4 bathroom with seven other survivors, unable to move or even speak for fear of discovery.
By opening herself up to God, Ilibagiza learned to forgive her tormentors.
"Prayer has the power to change us," Ilibagiza said. "It is just something that gives you peace."
Ilibagiza lost her mother, father and two brothers to the atrocities in Rwanda, but the message she had to give to Bonaventure students was still an uplifting one.
"No matter how bad it can be, hold on to God. Hold on to hope," Ilibagiza said.
Students found Ilibagiza's tale of hardship and forgiveness moving and uplifting.
"The strength (she) showed while reliving her story for the masses was inspirational," said Emily Young, a freshman journalism/mass communication major.
Young wasn't the only student in the audience who was deeply touched by the speech. Emily Sorokes, also a freshman journalism/mass communication major, found Ilibagiza's message heartening.
"Hearing about her seeing her family and friends all brutally murdered, yet giong on with her life and forgiving the killers, gives me hope for the rest of the world," said Sorokes.
Michelle McKernan appreciated the chance to see the author in person.
"I thought her standing there was just amazing," said McKernan, also a freshman journalism/mass communication major. McKernan said she and friends were startled to have Ilibagiza walk past her in the Hickey Dining Hall while they were eating breakfast.
Following her presentation, Ilibagiza invited the audience to listen to a song she had written and open themselves to God. Most of the audience, community members, students and faculty alike, bowed their heads or closed their eyes in compliance with Ilibagiza's request. When the song had finished, representatives of two local families presented Ilibagiza with a check for $3,000, fundraiser proceeds for her charity organization for Rwandan orphans.
The All Bonaventure Reads committee read collectively about 60 books, looking for one that tied into university ideals, was a quick read and would compel students to complete it. Jean Trevarton Ehman, chair of the All Bonaventure Reads committee of the First-Year Experience Council, said that the ideas of hope, faith and forgiveness resonate with what the university wanted to promote with this year's All Bonaventure Reads book.
"We wanted our freshmen to not be able to put it down," Ehman said.
It was evident that the committee succeeded as the crowd gathered in the Reilly Center, hanging on to Ilibagiza's lighthearted energy and powerful message. The audience seemed galvanized by her spirit.
As her presentation drew to a close, Ilibagiza reminded everyone of the importance of love.
"All you need is love, and everything is possible," Ilibagiza said.
-Connor McDonald
Class of '11
Book inspires unique fundraiser among St. Bonaventure students, faculty
Every year, the All Bonaventure Reads (ABR) committee chooses a novel that incoming freshmen will read over the summer and discuss once they're on campus. The program also includes events such as classes, lectures … and asking eight people to remain in a tiny makeshift bathroom in total silence for 10 minutes.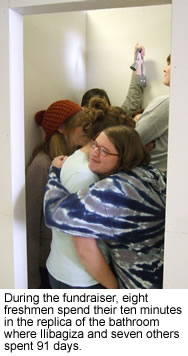 It's true.
During the week of Nov. 17, teams of eight volunteers were asked to volunteer for the experience, based on Immaculée Ilibagiza's New York Times bestseller, "Left to Tell: Discovering God Amidst the Rwandan Holocaust."
For Ilibagiza, the experience lasted more than 10 minutes. She survived 91 days with seven women in a 3-by-4 bathroom in complete silence. The eight were hiding to escape the mass killings of ethnic Tutsis during the 1994 Rwandan genocide.
The fundraising initiative asked teams, mostly consisting of freshmen, to obtain a sponsor or provide a minimum $10 donation to benefit Illibagiza's Left to Tell Charitable Fund — a fund that promotes adequate educational opportunities and basic living necessities for Rwandan orphans. The fundraiser preceded Illibagiza's keynote address in the Reilly Center Arena on Nov. 20.
The book and accompanying fundraiser are not the first of its kind among area colleges.
Jean Trevarton Ehman, chair of the ABR committee, said a few of the University's professors went to see Illibagiza speak at Monroe Community College in Rochester last March after the book was chosen as the ABR selection.
Dr. Carol Fischer, an accounting professor, also heard Illibagiza's talk last March. She said that she is glad the committee agreed on the book because it engages freshman students.
"It does feel like the story resonated among the whole campus because the story is so intense," said Fischer.
Fischer said books picked in the past were good, but not as stimulating. This year's book, she said, prompted the first film series built around an ABR book. The movies shown this fall discussed issues of violence similar to the Rwandan genocide. The flicks included "Schindler's List," "Beyond the Gates" and "Hotel Rwanda."
Fischer is not the only professor who saw a change in students' perceptions of the ABR-picked book. Tracy Schrems, lecturer of English, said the book has had an unprecedented impact on her freshman students.
"I have never seen a group of students who have gotten into a book this much in my 22 years of teaching," said Schrems.
Freshman Jaela Agnello said she and most other freshmen enjoyed the read.
"First, I wasn't really interested in reading it," said Agnello. "Then, a friend told me to read it and I couldn't put it down."
Some faculty members, like Ehman, believe part of the book's astounding affect comes from the fundraiser in the Reilly Center.
Rob Hurlburt, assistant director of maintenence, and Joe Questa, University carpenter, built the model bathroom exactly like Ilibagiza's real-life safe-haven, 3-by-4 feet with a toilet and shower area.
"It's one thing to read the book," said Ehman, "but when people jam in there and really can't move, they realize how serious this was."
Sophomore Mark Wegman, a University 101 mentor, said he began to better understand Illibagiza's struggle when he spent 10 minutes in the model.
"The first two minutes everyone is giggling and stuff, but by minute three and minute four it seems like you've been in there forever," said Wegman. "It's really humbling."
-Eric Carlson
Class of '09