___________________________________________________________
Financial Aid for College: Keep it going
Tips from St. Bonaventure's Office of Financial Aid
Many families need assistance to pay for a college education. The first thing to do is file the FAFSA as soon as possible. Sound familiar? You are probably flashing back to your previous experience with the FAFSA. That experience will pay off when you complete it this year. Remember, you need to file the FAFSA every year.
File the FAFSA
To get started, find both the parents' and student's PIN. If you forgot your PIN, you can get it again at www.pin.ed.gov. File the FAFSA electronically at www.fafsa.ed.gov. Make sure to include St. Bonaventure's school code: 002817. If applying for aid for the fall 2008, use 2008-09 as the academic year for the FAFSA and submit 2007 income information on the FAFSA. The deadline for St. Bonaventure University returning students to file the FAFSA is April 1, 2008. After you successfully file the FAFSA, watch for a Student Aid Report (SAR). Review the SAR and make corrections if necessary. If you are selected for verification, the SBU Office of Financial Aid will notify you regarding specific documentation you must submit (usually income verification, tax returns, W2s, verification of family size). Reply to this verification request as quickly as possible. The student's financial aid is considered tentative pending the completion of verification. New York state residents will be directed to the New York State Higher Ed Web site (www. HESC.org) to complete the application for the New York State TAP Grant through TAP-on-the-web using a PIN. If you want to file the FAFSA by paper you can download one at www.federalstudentaid.ed.gov, call 1-800-433-3243 to have one mailed to you, or ask the Office of Financial Aid.
Investigate other sources of financial aid
Private scholarships can be a source of additional funding for some families. Many families find they need to borrow to supplement the student's financial aid package. If you decide to borrow, we recommend you exhaust all federal loan options (Stafford, Perkins, and PLUS loans) before seeking private or alternative loans in the student's name. Federal loans have the best terms and rates available. The SBU Business Office offers plans which enable you to pay your balance in monthly installments. You will receive specific information about the plans in a separate mailing from the Business Office. Questions can be directed to the Business Office at (716) 375-2100.
Financial aid from SBU
Finally, your student should watch for a financial aid package by late June. Academic awards are renewed at the same amount each year provided the student maintains the minimum cumulative GPA required for the award. Need-based aid will stay relatively the same as in prior years provided the family financial situation is relatively the same and federal funding levels remain constant. In all cases, the student must demonstrate satisfactory academic progress toward his/her degree in order to renew financial aid. Returning students receive notification of the financial aid award via their SBU e-mail account. They should review the financial aid award on our secure intranet at my.sbu.edu, where they must accept or decline their awards. Please remind your student to watch his/her SBU e-mail account for financial aid and other SBU notices over the summer.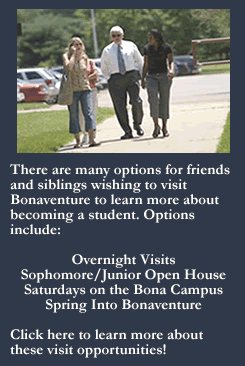 For further information about financial aid at St. Bonaventure, please see our Web site at www.sbu.edu.
Application Tips:
1. File the FAFSA as early as possible. Estimate information if necessary. Watch for the Student Aid Report.
2. NYS residents, complete the TAP-on-the web as early as possible.
3. Keep copies of all application materials.
4. Follow up to make sure everything is received.
5. Pay attention to application and billing deadlines.
6. Respond as soon as possible to requests for additional information.
7. Seek out additional "free" sources of aid through private, state, and federal organizations.
8. If you need to borrow, exhaust federal loan sources first.