What is a learning community?
Your student may be involved in a learning community as he starts his Bonaventure experience. But what is a learning community and what can it do for the students involved?
Learning communities, first introduced three years ago, group freshman students with other freshmen who have the same or closely-related majors or interests. The students then take two or three courses together. The communities, now including more freshmen, were created as a part of the First-Year Experience program.
Dr. Nancy Casey, director of the First-Year Experience program and associate professor in the School of Education, believes learning communities are a major help for first semester freshmen.
"They help students by putting them in an environment where they are in the same classes with the same people," Casey said. "They get to know their peers quickly and this allows them to feel more comfortable and less embarrassed or afraid to participate in class."
Learning communities help freshman students with the transition from high school to college. They provide students with the resources necessary to succeed academically.
Carol Fischer, professor of accounting, is in her first semester of teaching as part of a learning community. Fischer believes the program gives students an advantage in the classroom.
"The students get to know each other well and this translates to distinct advantages in class," Fischer said. Fischer has noticed that the students in her learning community are more outgoing and more willing to ask questions in class.
Learning communities also offer students a support system.
"The students seem to have developed a comfort level with one another and have really gelled. They have formed bonds and friendships outside the classroom and they are a support group for each other," Fischer said.
Fischer has observed how her students help each other study and do homework, while also challenging one another in the classroom.
"I see the students even putting pressure on each other and pushing one another in the classroom to do better," she added.
Learning communities also help freshmen form relationships with their professors, something which can be intimidating for first-year students.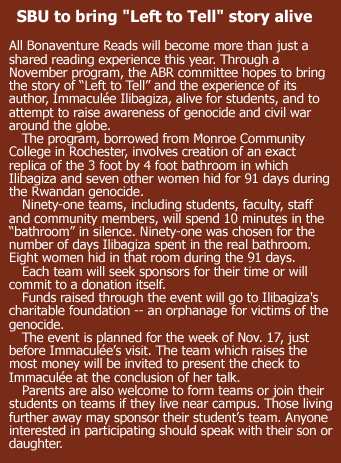 "The program enables students to form better relationships with the professors. It helps students see that their professors are approachable and helps students feel more connected with them," Fischer said.
Casey said she has spoken to several freshmen who have already requested placement in learning communities next semester.
"Many of the students involved are happy and have developed friendships and academic colleagues and want to continue that," she said.
She said the FYE program is doing more assessment on learning communities, but is pleased with reception of the program so far.
-Andrea Doneth
Class of 2010