Co-curricular transcript available to freshmen
Bonaventure's class of 2013 will have a new way to let people know about some of their college achievements.
Starting with this year's freshmen, the university will provide co-curricular transcripts. The co-curricular transcripts provide comprehensive records of a student's leadership experiences and campus involvement. It can become part of a package with the student's résumé and academic transcript when she applies for future jobs or activities, explained Rob DeFazio, director of the Center for Activities, Recreation and Leadership.
"This is a great tool for them to use when they graduate to give to graduate schools, service groups or future employers to make them more marketable," DeFazio wrote.
The transcript includes honors and awards, leadership activities, participation and paraprofessional, educational development and community engagement activities. DeFazio said the University hopes the co-curricular transcripts will encourage students to become involved in these activities.
"What we hope happens is that we see a progression of students getting involved and taking on leadership roles," he added.
This year, the co-curricular transcripts will only be available for freshmen, since it would be too difficult to start a new program with all students retroactively, DeFazio said. The transcripts will be available for future incoming classes, he added.
DeFazio said the university has received positive feedback about the transcripts.
"The freshmen we have talked to seem very interested in the co-curricular transcript idea," he said.
If your student is interested, she can obtain a co-curricular transcript form online at my.sbu.edu or at the Center for Activities, Recreation and Leadership, located in the Reilly Center. Students are encouraged to update and submit new forms each semester.
-Christy Andrzejewski
Class of '11
----------------------------------------------------
Many opportunities for involvement in theater...
When I arrived at St. Bonaventure, I knew I wanted to be involved in theater, but I didn't expect to do so as a freshman. I walked into The Garret Theatre for auditions, expecting to be overlooked. But something surprising happened. When the cast for that play, Anton Chekhov's "The Seagull," was posted, I had won one of the lead female roles.
At Bona's, involvement in theater is based on talent and interest, not class year. The program offers an academic major for those who want to consider a career in theater and non-course opportunities for those who simply want to try out theater or continue a long-standing interest.
Even if your student isn't the on-stage type, she can find a place in the theater program. Professor Becky Misenheimer works with students who are more interested in the technical aspects of theater. Students who see themselves in a backstage role could become stage managers or could be part of the crew in the shop during tech hours, Monday through Friday, 2 to 5:30 p.m.
During tech hours, your student can learn how to build sets -- including using power tools safely. She can read light plots, design costumes or handle any of the other jobs required to make sure the show does go on. Before students are allowed to work in the shop, they must read the safety guidebook and sign a paper stating they understand the required precautions.
Theater majors and minors are required to put in shop hours. Their classes include Theatre 299, a one-credit, mandatory course that requires work in the shop. Tech personnel must work at least 40 hours in the shop, while actors in that semester's show must put in at least 10 hours.
The theater experience -- on and off stage -- is open to all students, regardless of major. We always appreciate new people, and auditions and shop work are open to all. Being on stage is a great way to build confidence while working in the shop teaches you to apply yourself.
Even if your student is not a theater major or minor, she can take theater classes as electives. Dr. Ed. Simone and Professor Larry Smith teach courses such as style and movement, directing and acting for the camera. Professor Misenheimer teaches courses on stagecraft, theatrical design and special topic classes such as scene painting. Classes in all areas can be hands-on, allowing your student to work with other people to perform scenes or design sets.
Monica Edwards, a junior English major, has been involved with theater since her freshman year.
"It's a really good experience to grow as a person, meet new people, and come out of your shell even if you're not a major or minor," she said.
Monica said she enjoys being the stage manager: "It's a lot of work but definitely worth the time. I wanted to be involved and didn't want to act. I wanted to be a part of the whole process."
Chris Britten, a junior music and theater major, said he enjoys working back stage, but being on stage is more his "style."
"The difference between being stage manager and an actor is that as an actor, there is a different kind of atmosphere and pressure," he said. "You have to be right on or you can ruin the image of the play night after night.
"I enjoy the size (of the program)," he added. "It's not too big and you get to know everybody here."
And if your student decides to become a theater major, he can find opportunities to work in the field after graduation.
A student who continues on to get his master's degree could teach theater courses at the collegiate level, act in shows, direct or be a technical director or designer.
If graduate school doesn't appeal to your student, she can continue on as an actor. Theaters are always holding open casting calls. She could also instruct acting classes for younger students. Directing and producing plays is also a good option if your student wants to remain involved with acting. If she's a technical person, she might consider a job as a house manager, set designer, master electrician or stage manager.

Learn more about St. Bonaventure's theater program and SBU Theater.
-Ashley Waterman
Class of '11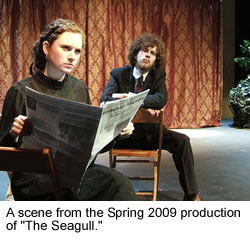 ...Or music

Once, not all that long ago, your student was a musician. But when your student went off to college, he or she left the instrument at home, seemingly gathering dust. At the same time, you may be hearing the familiar refrain: "I want to get involved in something .... I want something outside of class."
For your musician, the answer may be as close as that instrument that may still be in your closet. Bonaventure offers 11 different ways to get involved with the music program. The University offers Jazz, Concert and Pep Bands; Concert and Chamber Choirs; Brass, String and Percussion Ensembles; and voice, intermediate and advanced piano lessons. Students may choose to use any of the music groups as a for-credit course or be involved outside of classes, simply for the joy of playing or singing.
Is your student interested, but not certain how to get involved with one of the bands or the ensembles? To start the process, your student should go to "search for classes" on my.sbu.edu and check the music schedule for spring of 2010. If your student has space, he or she can add the ensemble of interest to the spring schedule. If not, your student can just show up at the proper room the first week of the semester. If a course does not have a listed time, an e-mail to the professor or a note in his or her mailbox should get your student an answer. As a last resort, he or she can ask fellow students; odds are good your student will know someone who knows someone who can point him or her in the right direction.
Once a student joins an ensemble, the only requirement, aside from showing up to the rehearsals, is to learn his or her part and be present at the concerts. Rehearsals are once a week, meaning there is plenty of time to go over and become comfortable with each piece.
One person who found his way into the Music Program is Eddie Lazzari, a freshman music/theology dual major. Eddie said he "enjoys being able to play with people in a group setting," adding he likes playing in all the different ensembles. Eddie plays trumpet in the Concert Band and the Jazz Band and plays French horn in the Brass Ensemble.
Cherish Wicker, another member of the Concert Band, is a senior English major. When she transferred to St. Bonaventure in her junior year, Cherish found herself wanting to get involved with music again. She said she has played the clarinet for 13 years, and missed having music in her life. Since joining the band, Cherish has noticed a vast improvement in her skills as a clarinetist.
But growing in his or her skills as a musician isn't the only benefit to your student for involvement in the music program. To encourage students to join bands and choirs, the music program offers a $250 to $500 scholarship. Students seeking the scholarship must audition, but those in the program note that is not a very grueling process. A student must remain in at least one of the music groups to retain the scholarship.
Part of the first-year experience at St. Bonaventure is getting involved. A freshman may decided to join Bona Responds or Bona Buddies, others will play in an intramural sport, and others still will find themselves as part of a club. But who will find themselves as part of a group that creates music and evokes the emotions of their listeners? It might be just the spot for your student.

Learn more about music ensembles in the Department of Visual and Performing Arts
Learn more about opportunities in Music Ministries
-Jorge Johnson
Class of '12
Get moving with Intramurals
Have you heard this comment? "Mom, there is nothing to do here!" Next time, you could say, "Why don't you join an intramural league? I heard many students at St. Bonaventure are involved with intramural leagues that last only six to eight weeks!"
Rob DeFazio, director of the Center for Activities, Recreation, and Leadership, said it's very easy to get involved in intramurals.
"We put the roster sheets out and generally one person on the team will try to get students to sign up for their team," DeFazio said. "That individual then turns in the roster sheet [to the Richter Center], and that team is then put on the schedule to play.
"Any student can participate in intramurals," he added. "Most leagues play twice a week and run from Sunday through Wednesday nights.
"Basketball is the most popular type of intramural league," DeFazio said, adding the five-on-five league usually draws about 28 teams. Floor hockey and flag football are also popular, generally attracting 12 to 16 teams in those leagues, he said.
Currently, the five-on-five basketball and indoor soccer leagues are under way. DeFazio said competition has just finished for flag football, three-on-three basketball, golf and dodge ball leagues.
If your student is not currently involved with intramurals, she will have additional chances after the winter break.
"We will continue our five-on-five basketball league, and the floor hockey and volleyball leagues will start too," said DeFazio. "We have also recently purchased intramural horseshoes so we hope to start an intramural league with that in the near future."
Why might your student decide to join intramurals?
Freshman Chris Scheppner explained, "I choose to play intramurals because I am a very competitive person, and it allows me to fulfill a void because I am not good enough to play on a D-1 sports team."
Another freshman, Josh Carniewski, looks at a different angle: "Playing intramurals is an awesome opportunity because it gives you the chance to play some sports that you are not necessarily good at. You also are able to have fun with your friends at the same time."
Sophomore Abby Schaaf said she chooses to play intramurals because she "played basketball in high school and didn't want to commit the time to play at the collegiate level, but I still wanted to be involved with the sport and intramurals gave me that opportunity. It's also a good way to get to the gym with some fun added to it, and it's a great social outlet too! Intramurals are the highlight of my week!"
The key, said DeFazio, is for students to just get involved in physical activity, even if it's not through intramurals.
"The Richter Center is open weekdays 18 hours a day, from 6 a.m. to midnight, and weekends starting at 9 a.m. Students can always come over here [to the Richter Center] and use any piece of equipment or, at the very least, just walk the track. The message I try to get across to students is to take time out of your day to at least go for a walk. It gives time for students to be just with themselves, and it also is a stress relief.
"If students are not sure how to get involved or would like to know more about programs the Richter Center or St. Bonaventure offers, I would gladly go over the programs with anyone. Whether it's an athletic activity or just an activity on campus, I will always point them in the right direction," said DeFazio. DeFazio can be reached at rdefazio@sbu.edu.
-Robbie Chulick
Class of 2013
WHAT'S GOING ON . . .
Upcoming events on campus include:
Wednesday-Sunday, 11/25-29 - Thanksgiving Break, University Closed
Sunday, 11/29 - Women's Basketball vs. Bryant
Wednesday, 11/25 - Allegany Fire Department Search and Rescue DRILL
Monday, 11/30 - Festival of Trees Volunteer Meeting
Monday, 11/30 - 35 Cent Wings in the Skeller
Tuesday, 12/1 - Living with HIV/AIDS speaker Helen Worth
Tuesday, 12/1 - Foosball Tournament in the Skeller
Wednesday, 12/2 - Dinner and a movie in Hickey Dining Hall
Wednesday, 12/2 - Wii Wednesdays in the Skeller
Wednesday, 12/2 - Advent Penance Service
Thursday, 12/3 - "Girl Positive," a film about a teenager who learns she may be HIV-positive
Friday, 12/4 - Karaoke in the Skeller
Saturday, 12/5 - Comedian Ron G in Skeller
Saturday, 12/5 - Ally Program training workshop
Sunday, 12/6 - SBU Band, Choir and Jazz Band Winter Concert
Monday, 12/7 - 35 Cent Wings in the Skeller
Tuesday, 12/8 - Darts Tournament in the Skeller
Wednesday, 12/9 - Women's Basketball vs. Buffalo
Wednesday, 12/9 - Wii Wednesdays in the Skeller
Thursday, 12/10 - Men's Basketball vs. LeMoyne
Friday, 12/11 - Last Day of Classes
Monday-Friday, 12/14-18 - Final Exams - Students must be out of their residence halls within 24 hours of their last exam
Saturday, 12/19 - Residence Halls Close at 10 a.m.