DEAR PARENTS AND FAMILIES OF NEW ST. BONAVENTURE STUDENTS:
Well, that time has come. You've packed up your Bona student and sent him or her off to college. Today, August 24, is the first day of Welcome Days and begins your student's good journey at St. Bonaventure.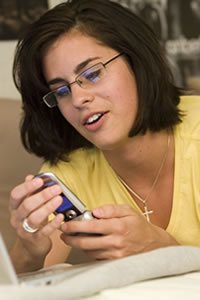 We are all grateful that you are trusting us with your child. You may be surprised to know that many of us discuss whether we should refer to "your child" or "your student" when we correspond with you. My thinking is that no matter how old or young, your child is always your child.
I hope that you will visit our Parents' Web site at www.sbu.edu/parents from time to time. If you don't see the information there that you need, please don't hesitate to contact us at parents@sbu.edu.

We will also be sending periodic e-mails to you in an attempt to keep you up to date on the important happenings on campus.

All of us here at St. Bonaventure are delighted to welcome your family into ours.

Best regards,

Mary Piccioli
Dean of Enrollment



WHAT'S GOING ON . . .
Upcoming events on campus include:

Friday 8/25 - Women's Soccer vs. Quinnipiac
Wednesday 8/30 - Concert by Irish band STAND
Monday 9/4 - Last Day to Add/Drop courses
Wednesday 9/6 - Concert by pop-rock band Fizzgig
Wednesday & Thursday 9/6-7 - Student Organizations Fair
Friday 9/8 - Three new exhibits open in the Quick Center for the Arts
TALKING TIPS
Are you wondering what your student might be experiencing during his/her first week at school? Here are some conversation starters to help you learn:
Who won the President's cup?
What's the biggest difference you're seeing between your high school classes and your college classes?
Do you have a first year experience mentor on your floor? Where's that person from?
What did other students think of A Hope in the Unseen?
What clubs or organizations are you thinking of joining? (And pass on the recommendation to do no more than two.)
Have you talked to any of your faculty yet outside of class?
Does your textbook have a Student Guide attached to its website? Check the introductory pages or the back cover for the web address and links.
Have you found a regular time in your daily schedule for studying? Where are you studying?
:: learn more
:: send a comment