Celebrate being a part of the SBU family during Family Weekend 2009
Again this month, the Campus Activities Board and the Center for Activities, Recreation and Leadership are sponsoring Family Weekend, the event that helps students settle into the St. Bonaventure community by having fun with their families and friends. The weekend will be held Sept. 25 to 27.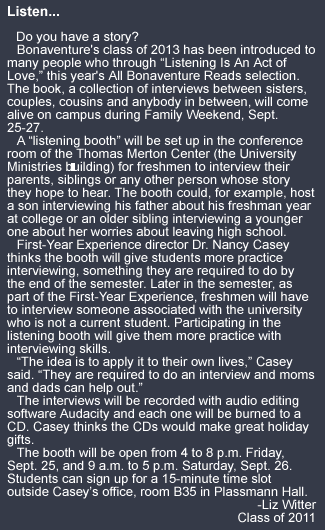 Incoming freshmen and their families will have the opportunity to get better acquainted with the university, faculty and staff. Returning students can enjoy easing back into the Bonaventure community with games and activities.
For the fifth year, Bonagany will celebrate the friendship between the university and the village of Allegany with a daylong festival on Main Street in the village.
"One of the main highlights of the weekend is definitely Bonagany, where Bona's students and their parents head into downtown Allegany and enjoy a day full of great food, good music and a lot of fun! Here, student organizations also advertise themselves so parents can get a sense of the community at Bona's," said Abhimanyu Aggarwal, '12, treasurer of the Campus Activities Board.
"Family Weekend provides entertainment and activities for all family members. From the opening musical act in the Rathskeller on Friday night to the Mass on Sunday, we offer a little of everything for everyone," said Rob DeFazio, director of the Center for Activities, Recreation and Leadership.
Family Weekend Schedule of Events
Friday, Sept. 25
4 p.m. – "Chicago" in Buffalo - Bus excursion to the play "Chicago" at Shea's Performing Arts Center in Buffalo. Students may purchase tickets ($30 each) in Reilly Center 208. Seating limited. Bus returns about midnight.
8 p.m.-Midnight – Night in the Skeller - Enjoy darts, pool, video games and the cover songs of singer Rod Tucker in the Rathskeller, beneath the Hickey Dining Hall.
Saturday, Sept. 26
8 a.m.-3 p.m. – Golf Tournament - 14th Annual Family Weekend Gold Tournament at the SBU Golf Course; no greens fees, carts are $12 (first come, first served); students may register at the Richter Center.
9-10 a.m. – Coffee with Sr. Margaret - Meet with University President Sr. Margaret Carney, O.S.F., S.T.D., in the Regina A. Quick Center for the Arts and enjoy complimentary pastries and beverages.
11 a.m. – ROTC Awards Ceremony - Fall Awards Ceremony recognizing outstanding officers and cadets, held in the Quick Center's Rigas Family Theater.
10:30-11:30 a.m. – Counseling Center Presentation - Discussion with Dr. Roger Keener, Counseling Center director, on a typical student's first month and what to expect; Robert R. Jones Board of Trustees Room, Doyle Hall.
10:30-11:30 a.m. – Alumni Reception - For SBU graduates and their families, in the Athletic Hall of Fame Room, Reilly Center.
11a.m.-5 p.m. – Bonagany – Main Street in Allegany - Join us as we celebrate our friendship with the village of Allegany in this annual day of music, food and fun. There will be a student organizational fair, games, inflatables, vendors and sidewalk sales by local restaurants. Main Street will be closed to traffic.

SHUTTLE BUS AVAILABLE: A free shuttle bus will run continuously between campus and the village from 10:45 a.m. to 5:45 p.m.
11 a.m.-3 p.m. – Mt. Irenaeus Open House - Meet the friars, walk the trails or attend a 1 p.m. reflection and prayer service at this Franciscan mountain retreat. Directions available at the Thomas Merton Center on campus or at www.mounti.com.
Noon – Phi Eta Sigma Induction Ceremony - Held in Doyle Dining Room.
1 p.m. – SBU Rugby match - The men's team plays Binghamton at McGraw-Jennings Field.
2-4:30 p.m. – Family Swim at the RC - Take a dip in the Reilly Center swimming pool.
8-9 p.m. – Hypnotic Intoxication - Hypnotist Keith Karkut entertains in the Quick Center theater; get there early as the 321 seats will fill up fast!
8 p.m.-Midnight – Music in the Skeller - Mingle with friends and family as a DJ spins tunes in the Rathskeller, beneath Hickey Dining Hall.
9 p.m.-Midnight – Casino Night - Enjoy games of chance with play money in the Richter Center.
Sunday, Sept. 27
10:30 a.m. – Family Weekend Mass - A calm, serene way to end a weekend of excitement. All Family Weekend participants invited to celebrate Mass in the Reilly Center Arena. During the celebration, recognition will be given to several members of our Franciscan family who are celebrating special milestones:
Sr. Margaret Carney, O.S.F., S.T.D., university president, golden jubilee;
Fr. Lou McCormick, O.F.M., a friar at Mt. Irenaeus, golden jubilee;
Fr. Peter Schneible, O.F.M., assistant professor of biology, silver jubilee; and
Br. Harry Monaco, O.F.M., a 1985 graduate of SBU who was ordained a priest in May
1 p.m. - SBU Rugby Match - Women's team vs. University of Rochester
To stay up to date on the weekend's activities, go to www.sbu.edu/familyweekend.
-Santana Questa
Class of 2012
University emphasizing prevention as best way to thwart spread of H1N1 virus
St. Bonaventure Student Life officials are urging members of the university community to listen to their PEP talk about the H1N1 virus.
"Prevention, Education, Preparation — that's what we're preaching," said Rick Trietley, vice provost for student life.
Melissa Gallison Blackstone, Ph.D., the university's new director of Health Services and Nurse Practitioner, is working closely with Trietley, administrators and members of SBU's Emergency Preparedness Planning Group on plans for preventing and, if need be, containing a campus outbreak of H1N1.
As of Sept. 21, she said, no one on campus had been diagnosed with H1N1. Cattaraugus County has only had two confirmed cases since the H1N1 virus surfaced earlier this year, and both of those people recovered fully.
Prevention is of primary concern. Housekeepers are paying closer attention to the cleaning of "high touch" areas such as doorknobs and stair railings, said Phil Winger, associate vice president for facilities.
Visible signs have already appeared across campus. Temporary hand-sanitizing stations are being replaced with more than 100 permanent sanitizer dispensers.
All health organizations are stressing the same precautions:
Wash your hands often with soap and warm water. Use hand cleansers (alcohol-based only) in between.
Avoid close contact with people who are ill.
Stay home from work or school if you are sick.
Use tissue when you cough, sneeze or spit, and dispose of the tissue in a covered trash bin.
If a tissue is not available, cough into your upper arm, NOT your hand.
Keep hands away from your face. Avoid touching your eyes, nose or mouth.
Clean shared spaces — such as phone receivers, keyboards, steering wheels and office equipment — before you use them.
Refrain from sharing personal items such as forks, spoons, toothbrushes and towels.
Students are being urged to visit Health Services if they have a fever or are experiencing flu-like symptoms. Since flu strains are viral, treatment for students exhibiting flu-like symptoms is symptomatic only: rest, fluids, continued respiratory etiquette and fever reducers.
Students with flu symptoms should stay confined to their rooms, wear surgical masks (supplied by Health Services) when in contact with others or when needing to leave their rooms, and should not attend class.
Students at higher risk for flu complications can be moved if their roommates become ill.
Students still exhibiting flu-like symptoms after three days should return to Health Services to be re-examined and those living within a three-hour drive from campus will be encouraged to contact their families to take them home.
Students unable to return home will be put into isolation with medical supervision. Students needing an increased level of care will be transported to the hospital. In all cases, students should not return to class until they have been fever-free for 24 hours.
Eating nutritious foods, getting enough rest, and exercising regularly are key components to preventing the flu, said Gallison Blackstone, who has worked with residence life staff to help educate students about H1N1. The university has applied to be a site for H1N1 vaccinations on campus when they are available, anticipated to be mid-October 2009.
Posters have been distributed with flu-prevention tips and resident assistants have stressed H1N1 awareness at floor meetings. Notice boards about flu prevention have been e-mailed several times since school resumed in August.
"We want people to understand that we have a continuously updated plan for communicating details of what to do, should an outbreak occur, with all members of the Bonaventure family — students, faculty, staff and parents," Trietley said.
To keep up to date on the university's H1N1 plans, visit www.sbu.edu/H1N1.
Help us evaluate Orientation!

If you attended Orientation this summer, please take a couple of minutes to tell us about your Orientation experience. Just click the link below to access the evaluation.

http://studentvoice.com/sbu/
parentorientsurvey09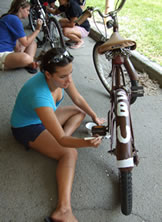 Bona Re-Cycles
Brown and white bicycles will dot the St. Bonaventure University campus this fall as organizers roll out the Bona Re-Cycles "bike share" program for 2009-10.

The bikes, distinctively painted in Bonaventure colors, will be parked in University bike racks. They are available to any campus community member who wants to pedal instead of hoof it across campus said Dr. Nancy Casey, chair of the First-Year Experience program.

Participation in the program couldn't be easier. Need a bike? See a bike? Take it. Just remember to park it in a University rack when you're done with it so someone else can use it. There's no fee, no form to fill out – and no guarantee that the bike a student borrowed to get to class in Plassmann Hall on time will be waiting when class is over.

"That's the serendipity of it," said Casey. "Hey, what the heck! You have to have a little fun in life."

Bona Re-Cycles is a completely grass roots effort, started last year by a group of students, faculty and staff members as a way of having fun and helping the campus become a little "greener." Instead of driving across campus, students (or anyone else) can grab a bike to get to their destination.

The idea is not new or unique to Bona's. Bike share programs have sprung up on college campuses and in cities across the U.S.

Families can help with the Bona Bikes program. If you have a used but ride-able bike, consider donating it to the program. You can clear out that corner of the garage and we will put the bike to good use.

If you are visiting campus for Family Weekend and want to donate a bike, contact Dr. Nancy Casey at ncasey@sbu.edu and she will arrange for a convenient drop off time and place.
WHAT'S GOING ON . . .
Upcoming events on campus include:
Tuesday, 9/22 - Foosball Tournament in the Skeller
Wednesday, 9/23 - Diversity Action Committee Meeting
Wednesday, 9/23 - Faculty Research Colloquium, "The Multiple Roles of Cadherin-11 in Mammary Gland Development and Cancer," Julie R. Hens, Department of Biology
Wednesday, 9/23 - Wii Night in the Skeller
Thursday, 9/24 - Internship Program in Perugia, Italy Information Meeting
Thursday, 9/24 - Octa Masher
Friday-Sunday, 9/25-27 - Family Weekend
Sunday, 9/27 - NFL Football in the Skeller
Sunday, 9/27 - "Heavenly Harvest" at Canticle Farm
Monday, 9/28 - 35 Cent Wings in the Skeller
Tuesday, 9/29 - Darts Tournament in the Skeller
Wednesday, 9/30- Men's Soccer vs. Buffalo
Wednesday, 9/30 - Wii Wednesdays in the Skeller
Thursday, 10/1 - Comedian Lee Camp in Skeller
Friday, 10/2 - Karaoke in the Skeller
Saturday, 10/3 - Spectrum Dance Party
Sunday, 10/4 - Undergraduate Admissions Open House
Sunday, 10/18 - Undergraduate Admissions Open House
Saturday, 10/24 - CAB Travel - Cedar Point