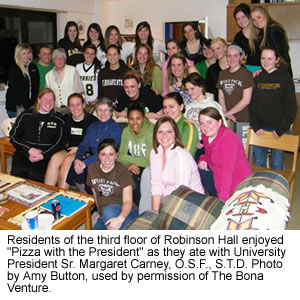 Popular Study Spots

No matter where you are on campus, you'll see students studying just about everywhere at St. Bonaventure. Most of them have favorite study spaces, where the atmosphere helps concentration and the ambiance is just right.

For many students, that favorite spot is Friedsam Memorial Library. Sophomore Allie Monahan, a biology major, goes to "a cubby on the quiet floor. I need a private space to spread out and I need to not look at anybody. It gets distracting."

Like Monahan, senior Thomas Liston, an accounting major, also heads for the library's quiet floor.

Kiersten Sanzone, a sophomore education major, used to study on the library's quiet floor, but found that wasn't her best choice.

"I used to go on the quiet floor," she said, "but I realized I needed noise. I like the basement of the library – it's quiet, but not too quiet."
Fellow sophomore Lauren Picone, a political science major, has other reasons to go to the library.

"I like to people watch and when I am here, it feels like I'm getting stuff done. I also like to go deep in the stacks," she added. "It's quiet and you accomplish a lot."

Senior Ashley Edwards and freshman Kyla Kulczyk both favor their residence rooms.

"The environment is more soothing and relaxing, and I'm able to concentrate more," said Kulczyk.

Edwards, a senior accounting major, said she will also go to the library "when I know I have a lot to do."
In addition, Edwards, a member of the women's basketball team, takes advantage of the study hall for athletes "Late at night, no one is there so I can get a lot done."
Dylan Ebert, a junior history major who is in the ROTC program, uses a study area available to ROTC students. He often studies in the cadet lounge in the Reilly Center.
Freshman journalism/mass communication major Whitney Emke has found the basement of Shay Hall is an ideal study spot for her.
The space is equipped with tables and chairs and, noted Emke, "it's almost always completely empty."

Junior accounting major Sandra Wendela noted she likes to study at the University's coffee house, Café LaVerna. Other common study spots include the Thomas J. Merton Ministry Center, the Regina A. Quick Center for the Arts, laundry rooms, the study lounge in Falconio Hall and empty classrooms.

The University offers study spots that will work for a variety of study habits. If your student finds the spot she's using doesn't work, talking with friends and floor mates might help her find other options that will provide the atmosphere she needs.
-Kaitlin Lindahl
Class of '12
and Lauren Guerreri and Elizabeth Witter
Class of '11

Summer School

Summer vacation: beaches, lounging, hanging out with friends and ... school?
For some St. Bonaventure students, summer vacation can mean lots of summer and perhaps a bit less of vacation. Summer classes can fit into student schedules in a variety of ways and for a variety of reasons.
Students can take courses either on campus at Bonaventure or online. It is also possible to take classes at another college and have those credits (but not the grades earned) transferred to Bona's.
That's the approach planned by Erica Mungall, a freshman undecided science major who will be taking a course at a community college near her home in Cleveland.
"I'm taking physics 104 and a lab because it will benefit me if I have it under my belt for next semester," Mungall said.
Students planning to take courses at other colleges should see their advisers before the end of this semester to arrange required paperwork and obtain approval.
Two elementary education majors found the online courses offered by St. Bonaventure were the best option for them.
Brittany Kentos, a sophomore education major, said she took Clare 108, World Views, the summer before her sophomore year to pick up three additional credits and remain on schedule.
Sophomore education major Jeffrey Baker will be taking Clare 108, World Views and Clare 104, The Good Life, this summer to "free up" his schedule.
"I'm looking forward to taking the online courses because I'm going to be in the comfort of my own home and not in a classroom," Baker said.
"An online course is counted the same as a regular course," said registrar Ann Lehman. "If a student has done poorly in a class they have the chance to catch up or if they are looking to double major or minor, they can do that, too."
But Clare College Dean David DiMattio warned online courses are not necessarily "the easy way out." He said students taking online courses should be prepared to meet the requirements of the course as if they were taking a course in a classroom.
"Students need to be aware how much time is involved. A five-week period can be intense," added Mike Hoffman, executive director of Technology Services.
SBU offers three summer sessions, with a mixture of online and on-campus courses. Those sessions run May 15 to June 15, June 29 to July 30 and Aug. 3 to 21. Students can obtain schedules of classes for each session through my.sbu.edu.
Many of the online courses offered this summer are Clare College courses, although the schools of Business and Journalism and Mass Communication also have summer offerings.
"The online courses give students flexibility," DiMattio said. "They can still have a summer job and consider taking a course during the summer."
During the summer, he added, "you have more time to concentrate on the course."
Summer offerings are determined in part by availability of faculty. Those interested in teaching online courses are asked to make that interest known at the beginning of the fall semester for the following summer.
Currently, faculty members use WebCT to develop online courses. Students can access course material through my.sbu.edu and the WebCT home page.
Faculty post assignments and bulletin board discussions on the Web, and students take part from home.
"I would go on to WebCT every day and do a discussion board. We had to write a paper that was due once a week," Kentos said.
If your student is interested in summer school, for any reason, he should talk with his adviser about the options and the requirements.
-Shana Hurley
Class of '11