You're invited...
Coming to visit your favorite freshman student during Family Weekend? Not sure what Bonaventure will have to offer? Don't worry about boredom while you're here. A full schedule for Family Weekend, Sept. 29 through Oct. 1, will provide many activities for all kinds of families.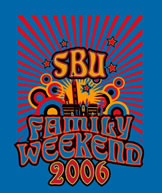 Before Family Weekend even begins, freshmen and their families can join others in the university community at a talk by Ron Suskind, author of "A Hope in the Unseen," the book chosen for SBU's first All Bonaventure Reads program. That program will take place Thursday, Sept. 28, at 8:15 p.m.
Off campus, try the Bonagany Family Festival. Celebrating the close relationship between St. Bonaventure University and the village of Allegany, the festival is set for Saturday, Sept. 30, 11 a.m. to 5 p.m. on Main Street in Allegany (Route 417).
Rumors, a Fleetwood Mac tribute band, and My Good Friend, a local band, will be performing during Bonagany. Many Allegany restaurants will be serving up their favorite dishes, an art show will showcase local artists, and clubs and organizations will highlight ways for students to get involved.
Other events on campus include art exhibits at the Regina Quick Arts Center and a performance by stand-up comedian Dwayne Perkins. Perkins, who will perform at 8 p.m. on Saturday in the Reilly Center Arena, has made appearances on "The Late Show with Conan O'Brien," "The Late Late Show" and "Premium Blend." Closing Family Weekend will be a Sunday Eucharist in the Reilly Center Arena at 10:30 a.m.
-Deandra Danch, class of '09
Click Here for the Family Weekend Schedule of Events
WHAT'S GOING ON . . .
Upcoming events on campus include:

Friday-Saturday 9/22-23 and Saturday-Sunday 9/23-24 - Overnights away at Mt. Irenaeus
Saturday 9/23 - Mark Lundholm, Comedian
Tuesday 9/26 - Leadership Program with Connie Podesta
Thursday 9/28 - Winona LaDuke, Environmentalist
Thursday 9/28 - Ron Suskind Lecture
Friday-Sunday 9/29-10/1 - Family Weekend
October - Disability Awareness Month
Tuesday 10/3 - Plenary Session on internships for freshmen majoring in business
Tuesday 10/3 - Steve Hofstetter, Comedian
Thursday 10/5 - FYE Plenary Session - "How do I write what I really want to say?"
Friday, October 13 - Jon Manasse, Clarinet and Jon Nakamatsu, Piano
What's up at home?
Missing home is normal for anyone who is away for the first time. College freshmen, however, may miss out on valuable time if they choose to leave campus on the weekends.
The school week can get hectic. The weekends provide students some down time to get acquainted with their new home. Students can sit down and talk to each other instead of just exchanging a quick hello in the hallway.
"Instead of going home to a comfortable environment, staying on campus takes you out of your normal comfort zone and that is key to becoming accustomed to college life," said First-Year Experience mentor David Seyler.
So what will your freshmen do on the weekends when they're not bogged down by classes and homework? Maybe they'll see a comedian or a local band at the Rathskeller. The Richter Center is open late for pick-up basketball games. The Quick Arts Center provides a place for students to catch performances by local and nationally-known musicians and theater groups and exhibits by many different artists.
Perhaps they will just hang out with a few friends in their room with a movie, free to rent from the library. Before too long, you may also be hearing about the electricity that can be found in the Reilly Center during any home basketball game, many of which fall on the weekend.
When the weather turns cold, students can show their Bona ID Card for free snow-tubing at O'Dea's, near campus. A bus provides transportation to the nearby Holiday Valley Ski Resort.
"I really hope parents push their kids to stay on campus," said senior Julie LaLonde, "because now with graduation around the corner, I don't want to miss a weekend for anything."
-Kelly Eschberger, class of '07
:: learn more
:: send a comment