Now is the time to get involved
Throughout high school, colleges flood student mailboxes with literature. Reading the material, students can start to learn what activities would be available to them if they attend a particular college.
During freshman orientation, new students get a firsthand look at some of those activities. Once they arrive as first-year students, they get the opportunity to become involved in some of those activities they have been hearing so much about.
College isn't just about the grades. It's about getting involved with new friends, new activities and new clubs. Through these experiences, students learn things that will last them a lifetime. New friends become old pals who remain in their lives well after college. Internships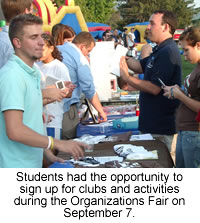 and clubs on campus teach students valuable tools needed to enter the workforce.
For St. Bonaventure students, the path to those activities can start with the Campus Activities Board. CAB is a group of students charged with bringing entertainment and speakers to campus. Amber Pietrobono, a junior at SBU, has been actively involved with CAB since she was a freshman.
"I wanted to be involved with activities at Bona's," she explained. "I got to go to a few concerts for free, and that was fun."
Joining CAB as a freshman is a good idea, she added.
"Freshmen would want to join CAB because it's a great way to meet people, but also (to get to know) the University they are about to begin a four-year journey with," she said. "Students completely plan these events and promote them. It's good life experience, too, not just fun times."
Another path to becoming involved is the intramural program, led by Rob DeFazio. Students can play a variety of sports, including soccer, flag football, floor hockey and racquetball.
"I think that freshmen should get teams together," DeFazio said.
Through intramurals, he added, students "see and meet others, freshmen through seniors."
The Sandra A. and William L. Richter Center, which opened in 2004, is a recreation facility popular among students. Center facilities include three basketball courts, racquetball/squash courts, an aerobics room, a weight room, a cardiovascular room and climbing wall. The variety of activities means students have no excuse to not stay in shape while at school.
The BUZZ, the student-run campus radio station, was recently ranked the No. 1 college radio station in the country by the Princeton Review. The station's departments include music, sports, and promotions, giving students a firsthand experience on how a radio station operates. You can listen online at wsbufm.net.
Online access is also available for TheBona Venture, the student-run campus newspaper. The newspaper's staff updates its Web site often. You may read the BV online at www.thebv.org.
Other majors offer similar programs. Finance majors can join the Finance Club. History majors can join the History Club. Spanish majors can…well, you get the idea.
When students were considering college, they were given a chance to hear about a wide variety of activities. Now that they're here, they can actually sample those and decide where they fit, outside the classroom as well as in.
-Richard Place
Class of 2009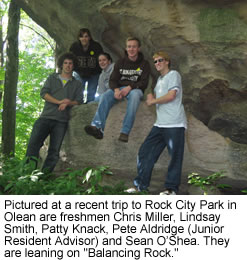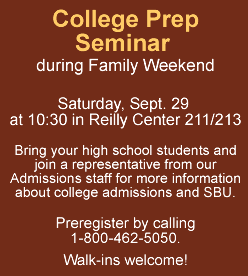 Students on track with FYE internships
"I have done what is mine to do, may God show you what is yours to do." — Saint Francis of Assisi.
As a Franciscan university, St. Bonaventure strives to give every student opportunities to serve the community. In 2003, the Lilly Endowment Inc. funded the Journey Project, which acts as a catalyst linking students with individual service internships. The goal is to help students discover a vocation and explore ministry.
Mike Williams, director of the Journey Project, developed the First-Year Service Project in the fall of 2004. Williams said he saw a need at the university for a project that specifically targeted first-year students and gave them the opportunity to take ownership of their own education and future.
"When first-year students come here, it should be easy [for them] to find and do good things," Williams said. "The more involved you are in positive activities, the better off your general health is."
In the First-Year Service Project, students form groups of five and decide together what service projects they wish to do, based on the needs of the community, especially the Olean-Allegany area.
"The program helps build a bond between the Olean-Allegany area and, more importantly, it is a wholesome way of having fun," Williams explained.
Each group is under the leadership of one peer leader, many of whom participated in the First-Year Service Project last year.
Sophomore Emma Jannson, an education major, shared a few of her experiences.
"We cleaned up the cans over by the townhouses (on campus) one Sunday morning, we tutored at Archbishop Walsh High School, baked cookies for Bona Big Sisters, wrote Easter and St. Patrick's Day cards for Meals on Wheels, and went with a big BonaResponds group after the storm in Buffalo to help clean up tree branches," she said.
The program also includes a reflection component. Students meet with their groups once a week to discuss what Williams calls "the big question" in light of the work they had done.
"It was nice to be able to share how you felt about your experiences with other people who were at the same level with you – who hadn't done much service work – and it was interesting to see what their thoughts were, too," Jannson explained.
"The program builds friendships that are based on common interests and positive peer influences, outside of residence halls," Williams said. The reflection groups help open the lines of communication that build those relationships.
Students are paid for the service work they do. The reasoning behind that is that all students should have the opportunity to do community service, including those that may not have free time because they have to work.
This year, 70 first-year students applied for the 30 positions available. The first group meetings will begin before end of September.
-Brianne Rehac
Class of 2010