Got Midterms?
Halloween isn't the only potentially scary event in October. Mid-October marks the release of mid-term grades, and some students might just find themselves plain spooked. If this scenario sounds familiar, the Teaching and Learning Center should be the next stop on your student's list of places to go.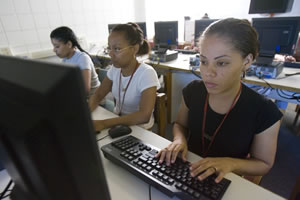 The Teaching and Learning Center, also known as the TLC, is dedicated to helping students excel and improve in all academic areas. Whether students need to maintain a GPA for a scholarship or simply want to achieve their personal best, the TLC works with them to provide the extra academic attention they might need.
Help is offered in a variety of formats, noted Jean Ehman, director of the TLC. Two types of labs are run at scheduled times weekly to accommodate student schedules. During Math Labs, members of the TLC staff work with students on problems about homework, test material to study or questions they have about class. Because the Lab is not run by appointment, students can arrive and leave on their own time, and can talk with other students about problems.
The Writing Lab provides help on a more individual basis. Students can sit down with the lab staff for necessary assistance on everything from sketching a paper outline to having a final copy reviewed for grammatical errors. Unlike the math lab, appointments are required at least a few days before the deadline of an assignment, allowing students to receive the individual attention they need.
Ms. Ehman said students are generally very happy with the labs, but they do have another option.
"If students desire more help than that and want a peer tutor in addition to going to the labs a couple of times, then they can fill out forms and we will get them a one-on-one tutor," she said.
Students can request a tutor for almost any class on campus. Work-study tutors are on hand to work with students one-on-one or in small groups. Any student can request a tutor, but matching student and tutor is done on a first-come, first-serve basis, so those looking for individual attention should visit the TLC immediately.
Christopher Novak, a junior journalism major, has been a TLC tutor for two years. Novak said he strongly recommends tutoring to anyone looking for an academic boost. This type of peer help, he added, is what makes the university the school that it is.
"For the past two years, I've looked to upperclassmen for guidance and help," Novak explained. "Now, being a junior, I want to pass on my experiences to underclassman. To me, this is the definition of the 'Bonaventure Bond,' and it's why this university has such a strong connection among undergraduates and alumni. My job as a tutor allows me the chance to help my classmates."
Novak said he has occasionally found roles reversed.
"There's no shame in asking for help," Novak said. "Although I often prefer figuring things out on my own, every time I've asked for help, I've received a better understanding of the material."
Ms. Ehman strongly recommends students considering asking for a tutor talk with their professor first.
And if you just plain didn't receive those spectacular (or spooktacular) grades in the mail? University registrar Heather Jackson suggests that you speak with your student about signing the FERPA form.
FERPA is the federal Family Educational Rights and Privacy Act, which limits access to a variety of educational records. To allow the University to send grades and similar information to parents, a student would have to sign a document required by FERPA.
"Most students sign FERPA, which means they waive their rights," Ms. Jackson explained. "What usually happens is when students come to orientation, they get this, and I say 'OK, this is between you and your family, you need to discuss this and decide if you want to sign or not.' Most of the parents say 'You're signing, because we're paying the bill.'"
However, if a student chooses not to sign, or hasn't done so for any other reason, the university is required to protect his or her privacy and withhold any information, including grades, from parents.
"It doesn't matter if the parents are paying tuition," Ms. Jackson said. "I get a lot of calls from angry parents saying 'Well I'm paying the bill,' and I say 'You need to talk to your students and ask them whether they signed FERPA.'"
Once grades have been received, congratulations may be in order, or a plan of improvement may be hatched.
"We are in the business to help students academically -- that is what we're all about," Ms. Ehman explained. "The more traffic and the busier we are, the better."
-Molly Hirschbeck
Class of '08
Spring Registration

Your student had a ready-made schedule when she arrived at Bona's in August. But she may be hearing talk now about the need to choose her own spring semester classes and register for them. And that talk may be prompting some questions.
We have some tips that will help you point your student in the right direction.
First, encourage your student to visit my.sbu.edu, which offers an easy, online way to check information on a variety of topics.
Registrar Heather Jackson said the student should check his account to see if it lists a hold on registering for classes. A hold could mean that an office on campus does not have some needed information, possibly including health records or high school transcripts (for freshmen) or college transcripts (for transfer students). An overdue bill might also lead to a hold on the student's account. Until that hold is cleared, a student will not be able to register, which could lead to being closed out of classes he needs.
Also at my.sbu.edu, the student can find out his assigned registration date and time. Freshmen begin registering on Nov. 9.
A student checking my.sbu.edu will see a date and a time listed. That is the earliest the student will be able to access the system to actually register. A student does not have to be at his computer at that time, but he will want to register as quickly afterward as possible.
Students can start now to look over course offerings for the spring and choose what courses they need. Class schedules are listed under the "search for classes" section of my.sbu.edu. Also at that site, a student can check his degree audit to discover what courses he needs and what he has already been given credit for (or is currently taking).
In the near future, academic advisers will begin listing times when they will be available to talk with students about the spring schedule. Ms. Jackson said a student's adviser can answer questions regarding classes. The adviser must approve students to register, meaning the adviser has indicated online that he or she has met with the student. Until that happens, a student will not be able to register.
Once students have discussed what classes they wish to take with their adviser and have been approved, students are free to register for classes on or after the date and time given to them.
Most new students, particularly freshmen, need not worry about taking a course under the pass-fail option, Ms. Jackson said. University requirements limit the pass-fail option to students with more than 30 credit hours.
Requirements also limit which courses can be taken pass-fail. Courses that cannot be taken under that option include:
1. any course in the student's major;
2. any cognate courses in the student's major;
3. any course taken to fulfill Clare College requirements;
4. any course taken to fulfill a school requirement;
5. any course taken as part of a minor;
6. any course already taken may not be repeated with the pass-fail option
Ms. Jackson said students should check the University catalog for requirements in their major before making a decision on taking a course pass-fail.
-Vanessa Diaz
Class of '09