The role of the adviser
The professors at St. Bonaventure University have a variety of duties. For many, those duties include acting as academic advisers to the students in their department or school. Students must meet with their advisers at least once every semester to help register for classes. However, students can and are encouraged to e-mail, call or meet with their adviser any time.
The primary role of an adviser is to give students academic help and guidance.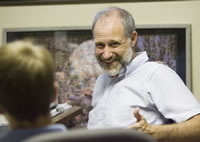 "An adviser has to first make sure that students are taking courses that will further them toward their degree and their interests," explained Dr. Karen Robbins, director of women's studies and assistant professor in the Department of History. "Second, (she has) to make sure students' grades are sound. Third, to make sure they feel good about what we've done. Sometimes that gets personal, and usually students tell me their plans for the future."
For Dr. David Matz, a professor of classical languages and an adviser to undecided arts students, his role is "primarily as one of helping students put together course schedules for the upcoming semester, and trying to answer questions that they might have about specific courses or departments. And also helping them find answers to these kinds of questions if I don't know the answer."
Advisers provide students with the guidance they need to succeed academically. But that can include direction in many areas of a student's university life.
Dr. Pauline Hoffman, assistant professor in the Russell J. Jandoli School of Journalism and Mass Communication, explained that her advisees come to her for guidance in several areas. She said students seek guidance on scheduling and choosing courses that both interest them and help them toward their specific degree. Students also come to her to discuss and receive advice about internships and jobs.
Dr. Matz said that his advisees normally come to him for help with scheduling and advice on choosing a major.
"Students normally come to me about their schedules, one way or another, and to get approved to sign up for the next semester," Dr. Robbins said. "They can come to me about anything, and if it's beyond me, then I will tell them where to go for help."
"I hope they know they can come here any time and whatever we discuss will stay here," said Dr. Hoffmann.
Dr. Robbins also hopes her advisees understand they can come to her to discuss any issues they might be facing, including personal issues.
"I'm here if they want or need to see me, I take an interest in them and their lives, and I hope they know they can come to see me if they have a problem," she said.
Dr. Hoffmann described St. Bonaventure as a "close-knit environment" and believes that getting to know her advisees on a personal level enables her to give them better guidance.
"I can't help them if I don't know anything about them," she said.
"With most students," Dr. Robbins explained, "I do try to find out about them and their future plans. A few want things to remain relatively impersonal. But yes, it can get personal."
The relationship between an adviser and an advisee is an important one both academically and personally. The role of an adviser is crucial in helping students grow and be successful during their time at St. Bonaventure University and beyond.
-Andrea Doneth
Class of '10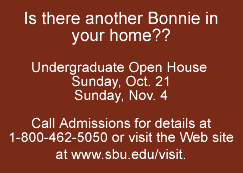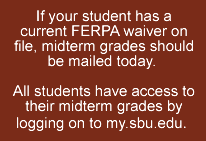 What can you do with a major in that?
Students choose majors on entering college because they are interested in those fields. Others are uncertain what career path they wish to follow and remain undecided. For some, "what can I do with this major" is a fairly easy question to answer. Students who major in elementary education will likely be elementary teachers and accounting majors may well become accountants.
But what happens after college if the job choice for a student's major isn't obvious? Consider, for example, majors such as English, theology and history – three popular St. Bonaventure majors offering expansive career possibilities.
St. Bonaventure University's Career Center staff can help students take those interests and turn them into careers. The center can help students who don't know what they "want to be when they grow up" learn about fields that interest them.
One of the services offered at the Career Center is the Self Assessment and Career Counseling resource.
"The purpose of self assessment," according to the University Web site, "is for you to identify your unique qualities and personal preferences." By identifying students' strengths, values, interests and skills, the people at the Career Center help students find career options. University career counselors consult with students.
The Career Center Web page on the St. Bonaventure site also features a special section for parents, offering phone numbers and links to external sites.
History is a major with vast career potential for students to investigate. Phillip Payne, the chairman of the Department of History at St. Bonaventure, said students become history majors "because they like the major.
"Some have specific career plans for which they see history being a good background," Payne said. Some of those could include archivist, curator, librarian or teacher. He said the Department of History, like other departments on campus, offers students career development help.
"We do offer courses in public history and internships to help students learn about the field," said Payne. "The department has a careers section on its Web page." The Web page has links to several external Web sites to help history majors pinpoint what they want to do after college. The U.S. Department of Interior, the National Council on Public History and the National Park Service are some additional sites. The professors are available to help as well.
"We do most of the standard things professors do," Payne said. "We give advice, write letters of recommendation and so forth. I regularly hear from former students who have embarked down various career paths."
St. Bonaventure alumni are also a big help for current students. The BonaConnection is a collection of more than 1,200 St. Bonaventure alumni who volunteer to aid students exploring careers. If students are struggling with career exploration, the BonaConnection, professors and the Career Center staff can help them.
-Richard Place
Class of '09