Hot Picks for Students this Holiday Season
Your student's first semester at St. Bonaventure is ending,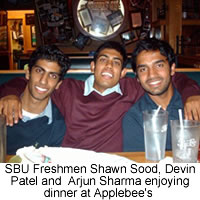 and you're excited to have her home for Christmas break. But now that she's been away at college for four months, you may be drawing a blank as to what to buy her for the holidays. We have suggestions for a variety of gifts most freshmen will love.
As every parent knows, most students can never have enough clothes. Now that it's basketball season, those clothes should include some St. Bonaventure gear. A good place to look is right on campus at the St. Bonaventure University Bookstore.
The bookstore features several different styles of clothing, including many hooded sweatshirts that are new this year. It also sells SBU stockings and Santa hats, both of which come in red or brown, and Christmas ornaments, which come in gold or silver.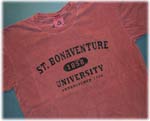 Studio 4 East, located in Allegany, carries many unique Bonaventure items, including a variety of T-shirts. In Olean, the Sports Locker carries Bonaventure gear, plus NFL and NHL items. Hats, scarves and gloves will also be welcome. Your student may already have discovered the chill of an approaching Bonaventure winter. If you're an alumnus, you probably remember how long a five-minute walk to class can seem if you're not bundled up.
If your student lives on campus, he can probably use a little something to spice up his residence hall room. Residence hall decorations are always a good idea. Also welcome would be some of the practical things college freshmen need, such as cleaning supplies (a Swiffer, Clorox wipes and vacuums), laundry detergent and fabric softener, new shampoo and shower supplies, and even snacks like water, juice and popcorn. Your student will thank you again second semester when he doesn't have to spend money on those items.
If your student lives at home and commutes, a little something extra for the car might be appreciated. Gift certificates for oil changes or even gas would be welcomed, or maybe even a new ice scraper and some lock de-icer for those frosty mornings.
Any student, tech savvy or not, would happily accept any of several electronic items as gifts. On the higher-priced end are such items as a computer upgrade. Your student may have a desktop machine, but be wishing for a laptop at school. (Many refurbished laptops can be purchased at lower prices online). Other items that might be welcome include a flat screen monitor, more memory for the computer, a new TV, a DVD player or even a new cell phone.
Some not-so-pricey electronics ideas include a wireless mouse, an alarm clock or DVDs. A flash memory drive would provide a way for your student to save a backup copy of papers and notes, preventing that sinking feeling that arrives when she realizes she just hit delete and killed her only copy of a paper. Adding to her supply of printer ink will win you parent gifting honors when she runs out late at night with a paper due the next day.
Another different, but very practical, gift idea is a bike. Many freshmen don't have cars, and a bike is a great way to get exercise riding to class or on the Allegheny River Trail.
Money is always a welcome gift for college students. If you'd prefer not to give your student cash, consider adding Bona Bucks onto their Bona ID card, which allows food purchases at the Hickey, the Reilly Center and the Clubhouse.
Gift certificates are also a great idea. Not sure which stores to choose? Listen carefully – you're likely to hear the stories of where your student goes to pick up supplies or relax on a weekend.
Gift certificates to chain stores like K-Mart, JC Penney or Domino's Pizza, can be purchased online or at your local store and spent here during the spring semester. Other local merchants – more than 200 restaurants, grocery stores, salons and retail/specialty shops - participate in the Greater Olean Area Chamber of Commerce (GOACC) Gift Certificate Program and accept gift certificates purchased through the GOACC. To find out more about these versatile gift certificates, call the GOACC at 716-372-4433 or visit their Web site.
Jen Carpenter
Class of '07
Financial Struggles?
It's one of the most repeated phrases throughout a student's entire college career: "Mom, Dad, can I have some money?" Most students have been there. Sometimes, they didn't want to pay for an item out of their own pockets. Other students couldn't pay for that item because they didn't have the money – their budgeting skills had failed them.
For first year students, planning ahead financially can be a struggle.
Unexpected costs arise – everything from meals with friends, off-campus movies, club T-shirt sales, transportation, wardrobe updates, grocery shopping and weekend fun. Credit card marketers offer gifts and a chance to have a symbol of adulthood, a student's own credit card.
Soon, the account balances drop. Many students react to that slump as they always did before, asking parents and guardians for more funding.
That was the first step for junior Clare Riley, a sociology major. Riley arrived on campus with a sum that was supposed to last her a full year. By mid-November, however, she had spent it all.
"I was not used to saving my money. I had always relied on my parents for cash," Riley said.
At Thanksgiving break, Riley's dad sat down with her to discuss her financial situation. He presented her with bank statements showing all of her overdraft charges. Riley sat face to face with her carelessness. After hearing the word "disappointed" a number of times and understanding how irresponsibly she had handled her money, Riley promised to never do it again.
Riley's dad helped her get out of the financial hole but demanded a bank statement at the end of every month. He also set a savings requirement – if Riley doesn't have a set amount in her savings at the end of each summer, she will not be allowed to return to St. Bonaventure.
Like Riley, many first-year students may be unprepared and lack the knowledge to spend and control their funds appropriately, said Dr. Carl Case, a Bonaventure management science professor.
After living with parents and guardians who, most likely, provided direct supervision and advice with spending, students struggle with the adjustment in taking their own responsibility, Case said.
He suggested parents set allowance limits and require students to earn the money through a school job to pay off debts that occur during the year.
He also urged parents to educate their students on credit card basics and to attempt to limit students' access to credit cards.
According to a 2002 study by Nellie Mae, a national student loan financing organization, one in five students were carrying between $3,000 and $7,000 of credit card debt. Researches have attributed this to credit card marketers' bombardment of students, on or off campus, with a variety of incentives designed to convince the student to sign up for their cards.
Parents should discuss with their students the potential dangers of credit cards, including how bad credit ratings created in college can cause future problems for purchasing homes and cars and even finding jobs.
Parents can also encourage their students to steer clear of marketers' high-pressure sales tactics, ask them to pay close attention to low introductory rates that increase later, check the interest rates for any cards they might get and pay their full credit card balance each month. If the interest rates on school loans are a concern, the student can speak with a financial aid officer about possible lower rates.
To help students budget their funds, parents might encourage them to make a weekly list of everything they spend so they can track their dollars. Instead of wondering where the money went, they could identify where it went – and whether it went to things they feel are worth their cost.
Case said he continues to encourage students to follow a simple rule: Do Not Spend It If You Do Not Have It!
Riley, who heard similar advice, has found saving and more careful spending have kept her out of financial problems ever since her freshman year.
Kelly Jackson
Class of '08