Family Weekend a success; CARL continues planning activities for SBU students

The weekend of Sept. 25-27 marked the first-ever Family Weekend for the class of 2013, and many of their families made the trip to campus.
Participation in the weekend's events was much higher than it has been in past years, said Rob DeFazio, director of the Center for Activities, Recreation and Leadership (CARL), the organization that coordinates Family Weekend.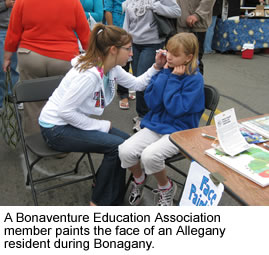 DeFazio said he was "extremely pleased with the turnout" for Family Weekend events.
The weekend featured a number of opportunities for family entertainment, including Bonagany, a street festival aimed at strengthening ties between St. Bonaventure and the local Allegany community; Casino Night at the Richter Center; and a performance by hypnotist Keith Karkut. Club teams also played throughout the weekend.

"We are trying to make a commitment to offer as much as we can at no cost to the families," DeFazio said.
Freshman journalism/mass communication major Kayla O'Keefe said seeing families flood the campus created an enjoyable environment for the weekend. O'Keefe's mother and two sisters visited her, watching her play rugby on Saturday and attending Mass with her on Sunday.
"My family loved the time down here," O'Keefe said. "They loved how gorgeous the foliage was, how kind everyone we met was, and all around really enjoyed themselves at Bonaventure."

Junior elementary education major Jill Demaree said she and her family took advantage of Casino Night, as well as Bonagany and the Rathskeller events.

Demaree said her family loved the university and the weekend.
"My mom graduated from St. Bonaventure in '80 and always looks forward to coming. My family has already booked a hotel for next year," she said.
Planning that far in advance for a place to stay is not uncommon. DeFazio said the lack of convenient hotel rooms is the only big Family Weekend disappointment. Unfortunately, he said, there is nothing CARL can do about the situation.

Overall, he added, remarks about the weekend and the entertainment were positive.
CARL will continue to provide entertainment and recreation throughout the year. Club sports are already in progress, with the rugby and field hockey seasons in full swing and the hockey season starting Friday. A number of day trips are planned for this semester, including a trip to Cedar Point Amusement Park (Oct. 24), and two NFL games (Oct. 25 and Nov. 1).

The Rathskeller will continue to host 35-cent Wing Nights to coincide with Monday Night Football. A number of comedians, including Dan Kinno, Jay Black and Adam Ace, are scheduled to appear there on Thursdays throughout the semester. While some of the entertainers have performed on campus in the past, DeFazio said CARL tries to bring new people in as well.

As always, CARL will be putting together Spring Weekend, a huge celebration including live music and a softball tournament. This year, Spring Weekend will fall on the weekend of April 29-May 2. No announcements have been made yet about who will be performing, but DeFazio said the information will be released on the Web through the Facebook pages for the Campus Activities Board and The Buzz.
DeFazio anticipates that signups for the softball tournament, an annual Spring Weekend tradition, would begin around April 18.
-Connor McDonald
Class of 2011
____________________________________________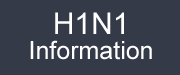 SBU student have a subscription to the online magazine Student Health 101. There is a parent companion piece for you! Access this online magazine.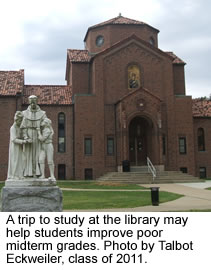 Midterm grades: How to improve
For some students, the midterm break was colored by uneasiness over the Oct. 14 release of midterm grades. If your student is one of those worried about his grades, things can improve. The path to better grades can start with better study habits.
A college education is a full-time job, and both Jean Ehman, director of the Teaching and Learning Center, and Dr. Nancy Casey, First-Year Experience director, urge students to treat it as such.
"Spend a full eight hours every day on academics - classes, study, tutoring all count!" said Casey. That includes hours in class and the rest of the day.
" Even if you don't have homework or don't have an assignment due this week, do something – re-read notes, read ahead, review old chapters, etc.," Casey suggested. She said students should use as many senses as they can while studying - talk with other students, write flashcards and read notes to work through material.
To make study time a little less stressful and a little more focused, students might want to organize a to-do list, said Ehman. These to-do lists should include specific tasks, not just vague tasks such as "study" or "read." Including specific tasks means each item on the list has a beginning and an end.
If studying daily isn't enough and a student is still struggling, the best thing she can do is act immediately. Scheduling a meeting with a professor is great first step. Ehman suggested the student e-mail a professor requesting a private appointment during office hours as opposed to speaking about difficulties before or after class. Bring to that appointment a list of worries or troubles the student is having with the material, she added. This way, the professor can focus on specific problems and give the student direct advice on how to correct them.
Creating an ideal study location is another step for success. Ehman said students need to be honest with themselves and realize that residence halls, which are full of distractions, might not be the best places to study. Students should find quiet spots with few distractions, she advised. Those spots can include Friedsam Memorial Library and the Quick Center for the Arts.
Once the student has found a perfect study spot, he should "use it religiously," said Casey.
Students might also want to consider forming a study group. Ehman said all freshmen are in learning communities and these communities serve as a great way to find other students with whom to study. The biggest downfall with study groups can be focus.
When in a study group, concentrate on "study, not gossip!" warned Ehman.
Ehman added that students should have a designated quitting time for their study workday and reward themselves once they have reached it.
Another thing a student should consider is class attendance.
"If it's less than perfect, make it perfect," says Ehman.
A student who feels she still needs more help can sign up for a tutor at the Teaching and Learning Center, located in the basement of Doyle Hall. Also, students can attend GPA 911, a seminar aimed at helping students find ways to improve their grades through the end of the semester. The seminar is being offered next Mon., Oct. 19, at 6 p.m., and Tues., Oct. 20, at 7 p.m. in Plassmann Hall Room 100.
-Kaitlin Lindahl
Class of 2012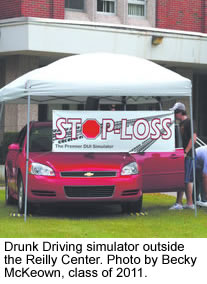 DUI Simulator educates students
The Office of Residence Life and the Student Government Association (SGA) took a step to curb drunk driving with the arrival of a DUI simulator to campus Wednesday, Nichole Gonzalez, executive director of residential living, said.

The virtual experience consists of a real automobile hooked up to a fully functional DUI simulator called Stop Loss. Bill Taggart, a representative for L.E.G. Enterprises, said Stop Loss is the premier DUI simulator on the market.

"The way it works itself, it uses a program. It's a research program that replicates all aspects of real driving, right down to the (virtual reality) goggles that you wear (so) you can get a 360 degree view of what's going on around you," Taggart said.

The vehicle rests on pads that sense steering, while the brake and gas pedals connect to sensors that read pressure, Taggart said. From there, the simulation operator sets the blood-alcohol level for drivers - .077 for females and .081 for males - and sets up different scenarios such as construction zones, boxes falling off trucks and pedestrians jay walking.

"We get them close to the legal limit because that's actually where the most dangerous accidents happen," Taggart said. "When you have somebody that's at a .16, twice the legal limit, they know they're blitzed and they actually take different precautions in driving."

Gonzalez said alcohol always remains an issue, but this year Residence Life wants to focus on more specific issues surrounding drinking and will do so through the newly established Residential Education Series.

"We wanted to do it in a lot of different ways - not just a lecture or somebody coming in and talking," Gonzalez said. "So, we knew as part of the series, we wanted to talk about drunk driving."

Gonzalez said she does not believe driving under the influence affects St. Bonaventure students more or less than any other college-aged student, but said it is an issue that needs to be addressed to increase everyone's safety.

"We haven't really taken the opportunity as much as we could here at Bonaventure to open the conversation," she said. "SGA has been talking a lot about drunk driving and wanting to decrease that and encourage responsible behavior amongst our students."
The simulator shows students first hand the dangers of drunk driving, Taggart said.

"This really opens up people's eyes to how dangerous driving under the influence of even just a little bit of alcohol is," he said.

Students who participated in the simulation agreed it provides powerful awareness to the dangers of drunk driving.

"Obviously driving drunk is bad and risky to begin with, but experiencing it and knowing that even though I was completely sober, I still did not have control over what I was doing," junior Mary Schrader said. "It was definitely an eye-opener that when you hear your friends who are driving drunk say 'I'm fine, I'm fine.' Experiencing it, you know no way are they fine."

Junior journalism and mass communication major Tony Burke said the simulator made it easy to grasp.

"The guy kind of explained the whole science behind why you overcompensate (in steering) because you are reacting to something that's already happened," Burke said.

Taggart said he usually receives similar reactions.

"I would say easily eight out of 10 people get out of this saying, 'I am never getting behind the wheel with anybody who's been drinking'," he said.

Taggart countered arguments that the simulator over-exaggerates the effects of drunk driving, pointing out the system operates based upon 50 years of neurological research of the effects of alcohol on the body.

"It is pretty crazy," Taggart said. "It shows students exactly how once you lose control while under the influence of alcohol, it's nearly impossible to regain it. And that's the main point of the simulation."
-Dan McCarthy
Class of 2010
WHAT'S GOING ON . . .
Upcoming events on campus include:
Friday, 10/16 - Communications Day
Friday, 10/16 - Women's Soccer vs. Dayton
Friday, 10/16 - Women's Tennis vs. Mercyhurst
Friday, 10/16 - Men's Soccer vs. Dayton
Friday, 10/16 - Karaoke in Skeller
Saturday, 10/17 - Men's and Women's Swimming vs. Pittsburgh
Saturday, 10/17 - Open Mic Night in Skeller
Saturday, 10/17 - Mt. Irenaeus 25th Anniversary Celebration
Sunday, 10/18 - Undergraduate Admissions Open House
Sunday, 10/18 - Men's Soccer vs. Xavier
Monday, 10/19 - Faculty Research Colloquium - Christopher Mackowski, School of Journalism and Mass Communication - A New Way to Tell an Old Story: The Civil War Battles of Central Virginia and Interactive Media
Monday, 10/19 - 35 cent Wing Night in Skeller
Tuesday, 10/20 - Billiards Tourny in Skeller
Wednesday, 10/21 - Dinner and a Movie in Hickey
Wednesday, 10/21 - Wii Wednesday in Skeller
Wednesday, 10/21 - Academic Evening Away at Mt. Irenaeus
Thursday, 10/22- Comedian Dan Kinno in Skeller
Friday, 10/23 - The Laurel Flash Fiction Contest Deadline
Saturday, 10/24 - CAB Travel - Cedar Point
Sunday, 10/25 - SBU Band and Choir Concert
Sunday, 10/25 - CAB Travel - Browns vs. Packers
Monday, 10/26 - 35 cent Wing Night in Skeller
Tuesday, 10/27 - Foosball Tourny in Skeller
Wednesday, 10/28 - Wii Wednesday in Skeller
Thursday, 10/29 - Comedian Jay Black in Skeller
Thursday, 10/29 - Evening Away at Mt. Irenaeus
Friday, 10/30 - Women's Soccer vs. LaSalle
Saturday, 10/31 - Hypnotist Gabrielle Holmes in Walsh
Sunday, 11/1/09 -CAB Travel - Bills vs. Texans