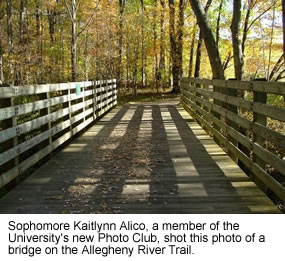 Can't find a club to join? Start your own!
At St. Bonaventure, freshmen and sophomores don't have to wait for someone to organize a club for them. They can get something started to pursue an interest and invite others to join them.
Christina Cardona, a freshman journalism/mass communication major, did just that. Christina pursued a hunch that she wasn't the only student interested in photography, called a meeting for people interested and Photo Club was born.
"I was disappointed when I found out that Bona's didn't have a Photo Club," Cardona said. "However, I was told time and time again, if Bona's did not have it, start it. That's what I did."
Fifteen people are currently members of Photo Club. The group is working through the Student Government Association process of receiving an official charter. Their adviser is Dr. Dennis Wilkins, associate professor of journalism and mass communication.
Photo Club offers students an opportunity to experiment with different styles of photography in a friendly, inviting atmosphere. The club encourages members' photography by selecting themes for photos, then considering that work at later meetings. The most recent themes were action and candid photos. Previous "assignments" have included portraits, landscapes and photos in black and white.
Photo Club members hope to be displaying their work around campus, including pictures in the Café La Verna and in the Laurel, the University's literary magazine. They are also considering fund raising projects which might include making coffee mugs, calendars and posters that will be on sale in the Reilly Center. A raffle for a set of Sabres tickets is also being considered.
Through the year, members plan instructional meetings on different photography styles and techniques. They would like to purchase cameras and printers and are also looking into setting up a dark room on campus.
"Bona's gives so much to the students – that's why it's such a great place to be," Cardona said. "However, sometimes you have to give back to make it even better."
That "giving back" offers just one example of how Bonaventure allows students to pursue, share and develop their interests.
-Heather Manaher
Class of '11
Intramural Involvement
Even if your student wasn't an athlete in high school, she can get involved with sports at St. Bonaventure.
This semester, the University offered 23 intramural tournaments and leagues through its Sandra A. and William L. Richter Center. Among the most popular for participants were football, basketball and volleyball. Other intramural sports offered include volleyball, soccer and ultimate Frisbee.
Offered as club sports were men's hockey, men's rugby, women's rugby, women's soccer and racquetball.
Club sports and intramurals are open to anyone and everyone is encouraged to give a new sport a try. Bona's Web site says more than 80 percent of students participate in some intramural, recreational or club sport activity.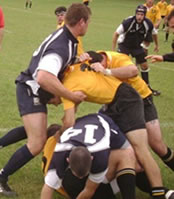 Rob DeFazio, the director of intramurals and club sports, said that students are encouraged to get involved in sports early and stay involved through their college career. Students who participate in intramurals get to know more people. They become more connected with campus life, he said.
DeFazio also mentioned that intramural sports are productive as stress relievers.
Signing up for intramurals and club sports is easy, DeFazio explained. All you have to do is pick up a roster and gather a team.
Most freshmen teams are initially made up of floor-mates, DeFazio said. Eventually, he added, as freshmen meet more people, teams are made up of students from different residence halls and classes.
Information about intramural and club sports was delivered to every residence hall room during Welcome Days. Information is also hanging in the Richter Center. The Richter Center is also running an Iron Man and Woman Challenge. Over 240 students are participating in the semester-long event that includes running, biking and swimming. Those who complete the challenge are invited to a social and given a free T-shirt, a coveted prize in the college community.
The goal at the Richter Center is to get every student actively involved in the center in some way – through intramural or club sports, the Iron Man and
Woman Challenge, fitness classes or using the work-out equipment, said DeFazio.
-Brianne Rehac
Class of '10