Commission for the Responsible Use of Alcohol
Graduate student Erika Mattoon knows that drinking on college campuses nationwide is a problem that can't be ignored. So she's helping St. Bonaventure offer alternatives. Mattoon was one of two student co-chairs on the Commission for the Responsible Use of Alcohol. She was asked to serve on the commission by university president Sr. Margaret Carney, O.S.F., S.T.D.
"The level of high risk drinking has increased over the past few years at St. Bonaventure," Mattoon said. "I think this is a problem and an issue that can't be ignored. I think that there is a need to change the culture on campus so students don't have the mindset that binge and underage drinking are acceptable."
Dr. Carol Fischer, professor of accounting, co-chaired the commission. Its purpose was to evaluate the drinking problem on campus, evaluate campus resources and environment and see what could be improved to reduce the incidence of problem drinking.
Many types of behavior are classified as problem drinking. Rapid consumption of alcohol is problem drinking even when the student is of legal age to drink. Underage drinking, a problem all college campuses face, is problem drinking as well, said Fischer.
The commission members also defined problem drinking as any drinking that results in fights, property damage or other types of destructive behavior and as drinking that hinders a student's ability to perform well in the classroom.
The commission met every two weeks throughout the 2005-06 school year. Commission members met with students, health services personnel, alumni, faculty and staff, counselors and members of the university's Medical Emergency Response Team (MERT) to gain perspective on the different aspects of problem drinking.
Between meetings, commission members looked at surveys and studies to gather data. Fischer said that members collected "enough data to confirm that the drinking problem was not going to just go away on its own."
"If we are a Franciscan community, we owe it to each other to care about one another," Fischer said.
The commission members decided to come up with a plan to give students other options besides drinking. Although fines and write-ups for drinking have a place, prevention is a better way to curb the drinking problem, Fischer said. She said she quickly determined that providing programming to inform students about substance abuse from a legal and medical standpoint could be an effective preventative measure.
The commission also recommended that the university devote some additional resources to providing students with alternatives to drinking.
"One recurring complaint from students was that there wasn't much to do," Fischer said.
Sister Margaret received the commission's report last May. It was released to the campus community in the fall. Immediately after receiving the commission's report, Sister Margaret organized a new group to coordinate the movement toward implementation of these alternative-to-drinking programs.
The commission had suggested that freshman residence halls would be a good step in combating the drinking problem and that suggestion was implemented immediately for the class of 2010.
Another commission suggestion, Fischer said, was that if students had more space available, they'd have more places to hang out and organize activities, especially on weekends. That suggestion led to renovations to the Rathskeller. The Rathskeller now hosts a campus house band Wednesday nights and dance parties and local artists most weekends.
Mattoon feels that students and parents need to be proactive about combating the campus drinking problem.
"Students most likely come to St. Bonaventure already having engaged in alcohol-related activities," Mattoon said. "It is important to direct initiatives at not just students, but also their parents."
Mattoon and Fischer agree that there is a lack of "dry programming" on weekends.
"From Thursday night to Sunday afternoon -- that's when student activities doesn't have many events happening," Fischer said.
"I definitely think students need to have more options when it comes to activities on campus," Mattoon said. "Non-alcoholic events should be scheduled during peak weekend hours. Thursday through Sunday morning, from around 10:30 p.m. to 3 a.m. is where the gap in scheduling currently exists."
Many groups on campus are working to coordinate more programming for students on weekend. (See story in this newsletter on some of those efforts.)
"We've seen some things start happening, and we want to make sure more happens," Fischer said.
-Katelyn Dieffenderfer
Class of '08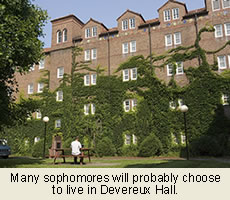 Sophomore Living
One of the biggest differences between your student's freshman and sophomore year is how he is placed in a room on campus. As an incoming freshman, your student was assigned a roommate and a residence hall room. Now, he will have the freedom to choose a roommate and the residence hall room in which he wishes to live.
All students whose room deposits have been paid are assigned a lottery card by the business office.
The number on a student's lottery card is originally assigned at random. Those numbers are then adjusted according to a formula, taking into account the student's grade point average. Academic excellence points are calculated by personnel in the office of registrar Heather Jackson and sent to Joe Stomieroski, director of housing, who subtracts them from each student's lottery number.
The lower the lottery number, the better the student's chance will be of obtaining the housing she wants. Students living with one or more roommates are able to use the lowest lottery number of any student in their room to determine when they will select. Lottery numbers will be sent to students' campus mailboxes in the early spring.
On April 18, freshmen planning to live in the residence halls next year must attend the housing selection program in the Reilly Center Arena. The program starts at 6 p.m. sharp. All roommates must be present at the time of room selection unless other arrangements are made with the housing department. Students must bring their lottery cards and their student ID cards that night.
At the housing selection program, lottery numbers will be called at intervals in ascending order. When the number of your child or his roommate is called, that student will approach the table representing the building in which he wants to live. At the table will be a list of available rooms. Your student will sign his name next to the room of his choice, and his housing selection process is complete.
Your soon-to-be sophomore will have the opportunity this semester to pick her roommate for next year. Nichole Gonzalez, director of residence life, said big problems can arise when students wait until the last minute to talk to their current roommate about the future. Students who might not be satisfied with their roommate for this year tend to put off conversations about living situations for next year, Gonzalez said. This usually results in those students living together again next year.
In choosing a roommate, sophomore Jen Cleveland advises freshmen, "Don't live with your best friend. Live with someone who's not even your good friend, but you can always get along with."
Gonzalez agrees.
Sometimes living with close friends "works out great, more often it causes issues. Look for someone you can live with; it doesn't have to be your best friend," she said.
The housing selection process may seem complicated, but it was designed with the student's best interests in mind.
"The housing selection process is fair," said sophomore Amanda Renko. "Everyone ends up happy for the most part."
Gonzalez added this advice: freshmen should relax and figure everything out as soon as possible. Everything will work out, she said.
- Kristen Schober
Class of '09