Let it snow, let it snow, let it snow!
Think in "Jeopardy!" lingo. It's sparked by a decrease in daylight hours. It's found most commonly in the northern states where residents face harsh winters, forcing people into states of temporary seclusion. For the most part, symptoms normally begin appearing in late fall, increase during the holidays and lessen when the sun comes out of winter migration.
The correct answer is, "what is Seasonal Affective Disorder (SAD)?"
For St. Bonaventure students, preventing SAD during these frozen months -- lasting from about the beginning of January through the middle of March -- is no easy battle, but the battle can be won.
Jeffrey Baker, a freshman education major, uses skiing as his weapon against SAD.
"It's a great form of exercise, but you don't even really realize it while doing it. I just love going straight down hills for the thrill," Baker said.
Holiday Valley in nearby Ellicottville offers college students a special discount price on night passes. From Sunday through Thursday, those passes sell for $25. For the Bonaventure skiers and snowboarders who cannot find a car to get to the resort, a bus leaves every Sunday from the parking lot outside the Richter Center around 3:30 p.m. and returns around 10 p.m.
When Baker can't make the trip to Holiday Valley, he can be seen participating in the many intramural leagues held at the Richter Center on a nightly basis, fighting for a team victory.
Morgan Nyweide, also a freshman education major, avoids SAD by working out, staying in with friends and snow tubing at O'Dea's, a tubing resort across the Allegheny River from campus.
"I've grown up in western New York, so I don't really let the weather interfere with my plans because I am used to it. The only way it ever interferes is if the roads are too bad to drive on and don't allow me to go anywhere," Nyweide said.
Michael Vieyra is another student who gets the best of winter. For the past three years, Vieyra, a fifth-year graduate student in the management program, has created an outdoor pond/hockey rink with his friends. Unlike a majority of the students who look forward to a mild-winter day, Vieyra dreads the warmer temperatures that could potentially melt his rink.
"Skating keeps me entertained and the shoveling of the new snow keeps me busy," said Vieyra.
It's incredibly easy to fall into the SAD trap, but Bonaventure students have found solutions to escape winter's wrath. Participating in the leagues offered at the Richter Center, playing games in the Rathskeller, trying new outdoor activities, such as tubing, skiing and snowboarding, or even creating an ice-skating rink can keep students out of the emotional hole or pull those stuck in it out.
A little snow never hurt anybody. The best thing to do is to not let the weather trap you indoors, unless, of course, it's a blizzard out there.
-Kelly Jackson
Class of '08
There's plenty to do inside, too!
Despite its encouraging name, spring semester is often filled with snow showers and icy winds. Fortunately, St. Bonaventure students know how to keep busy indoors. The Campus Activities Board, Residence Life and some faculty members have put together an indoor entertainment schedule.
Every Thursday and Saturday night, the Campus Activity Board hosts dance parties in the Rathskeller, located in the basement of Hickey Dining Hall.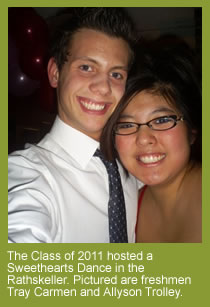 CAB is also sponsoring a "Pamper Yourself Night" in the San Damiano Room on Monday, Feb. 18, featuring manicures, massages and movies. The Counseling Center staff usually hosts monthly stress-free nights as well.
Acoustic musician Chris Cauley of Atlanta, Ga., is scheduled to play at the Rathskeller Saturday, March 8, at 8 p.m.
Comedians Kelly Taylor and Jamie Lissow are scheduled for Saturday, March 29, and Friday, April 11, respectively. Both comedians will be in the Rathskeller for 8 p.m. performances.
And the CAB presentations are not the only entertainment available. A few of the journalism professors are dedicating some Friday nights to the entertainment and education of their students.
The "Friday Night Lights" programs started last year at the urging of some freshmen to provide students with weekend campus activities that were alcohol free, faculty member Chris Mackowski said.
Friday Night Lights programs are not limited to journalism majors. This semester's programs include a talk by Dean Lee Coppola about the Mafia, a discussion about technology and its effects on the journalism industry and a night of faculty members reading their own written pieces. In the past, the Friday events included movie nights and "Dead or Alive" competitions.
The program gives the faculty a chance to hang out with students outside of the classroom, said Mackowski.
On a smaller scale, every resident assistant plans programs for his or her floor a couple of times a month. Activities such as movie nights, craft nights and floor dinners are common occurrences.
"These sorts of things [floor programs] reach out and bring us together more than regular day-to-day interactions would," said freshman Abigail Morales, who lives in Robinson Hall.
Most events held on campus are advertised on the daily Notice Board e-mail and through fliers. If you look, there is always something to do, even when the weather outside is frightful.
-Brianne Rehac
Class of 2010