Christmas Break Stress
With finals here and Christmas coming, St. Bonaventure students may feel the pressure and stress that can accompany the culmination of a semester. Freshmen probably are ready to seek refuge in a place they haven't inhabited for an extended period of time since late August: home.
By Dec. 16, most Bonaventure freshmen will head home for almost a month for Christmas break. While students prepare to spend time with their families, sleep in their own beds and eat home-cooked meals, they should also prepare for the changes they may encounter at home.
The biggest change for freshmen could be getting used to living in close proximity with parents who like to be clued in on what their students are doing.
Junior Katie Donahue remembers the adjustment: "For instance, at school you are used to making your own schedule, doing what you want when you want without having to report to anyone else. At home, parents automatically assume the parental position and love to play 20 questions with whatever you may have planned."
Roger Keener, director of the Counseling Center, explains that first-year students should be ready to make adjustments to home life. Keener says he finds the adjustment is easier if "parents and students sit down and have a conversation about what's expected." This way, parents have a chance to set some ground rules while students can explain their expectations for more freedom and independence.
Keener also explains that students should be prepared for more down time at home than at school. With parents at work, it's common for students to miss the excitement of residence hall life with friends just down the hall.
"For me, it was hard at home not to have my friends down the hall to go hang out with when I was bored; instead, I had my little sister," says Donahue.
Keener suggests students find a part-time job, a place to work out or arrange visits with school friends to cope with the abundance of leisure time. However, he does warn students not to do too much. He says students should allot time with their families. It can be difficult to balance friends and family and Keener says he has heard about parents complaining of an "invisible" son or daughter.
Despite the adjustments and challenges of going from one environment to another, many first-year students look forward to the perks of living at home for a month.
Senior Danielle Grobmyer says, "It is so nice to be with my parents after not seeing them for three months." Grobmyer also said catching up on sleep and not having to do laundry isn't so bad either.
Generally, students are eager for Christmas break and end up spending well-deserved time at home. If parents and students work together to adjust to the time together, Christmas break can be enjoyable for all so students can be re-energized and ready to come back to Bonaventure.
"By the end of break, I've stuffed myself with Grandma's home-cooked meals, caught up on my entire town's gossip, and spent as much time with family and old friends as possible. Then I find myself missing Bona's and ready to go back and start second semester," Donahue says.
-Allison Whalen
Class of '09
Service Trips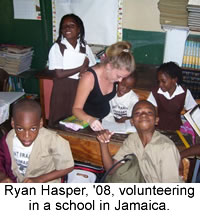 St. Bonaventure can offer your student many opportunities to experience new things, test her skills, extend her social network and help make the world better. One of those opportunities comes through the service trips offered by several Bonaventure organizations. The trips encourage learning, cooperating, sharing and reflecting. They also provide students with a chance to travel.
Service trips are generally scheduled over semester breaks or between semesters. Previous experiences have included trips to Panama, Trinidad, the Gulf Coast, Buffalo and the Bahamas and have been sponsored by several on-campus organizations including The Franciscan Center for Social Concern, Students in Free Enterprise (SIFE), University Ministries, The Journey Project and BonaResponds.
Senior Dan Breheny participated in the vocational service learning trip to Trinidad during his sophomore year.
"It was a great experience. We not only got to see a beautiful country, we were able to meet new people and learn about a culture," said Breheny. "We cleaned up a school's playground, we helped out at an orphanage, but we also were keeping in mind vocation."
Vocation is a focus of many of the service trips. The trips are designed to guide students toward their futures in the world, in their careers and their personal lives.
The Rev. Cheryl Parris, a coordinator of the Panama service trip, said the feedback is overwhelmingly positive.
"There are always positive outcomes, even when things don't go perfectly!" she said. "In fact, most trips are not perfect for the Team Leaders, but they are usually great for the participants. If a student becomes aware and active in the greater world and the global community then becomes a critical thinker (that is, someone who actively questions rather than accepts what they are told/given) then the purpose is served."
The Rev. Parris said the objective of the trip is to give students a sense of a different culture and provide a chance to meet the people of that country. Another trip to Panama is scheduled for May 18-28, 2007.
SIFE will be sending 45 students to Grand Bahamas Island over the Christmas break. While in the Bahamas, SBU SIFE members will be working with 10 schools, teaching nearly 3,000 students the basics of entrepreneurship and the global economy. In addition, SIFE members will assist in hurricane reconstruction work and provide computer training to local islanders. A key feature of the international projects is the internet linkages SIFE members set up with local Cattaraugus county schools.
Bonaventure students have also participated in VIVE Inc.'s interfaith organization. They assisted refugees seeking protection under the Geneva Convention in Canada and the United Sates. VIVE provides shelter, food and legal services. In addition, students have participated in Journey's End Refugee Services, Inc. programs that welcome refugees to Western New York and help them become healthy and independent.
St. Bonaventure service trips are designed as ways to help your student to discover what he wants out of life - educationally, professionally and personally.
-Gina Cesari
Class of '07