Bonagany and entertainment highlights of Family Weekend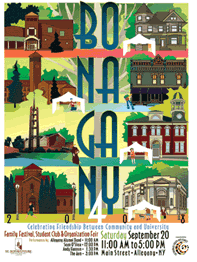 If you are visiting St. Bonaventure for Family Weekend, Sept. 19-21, make sure to stop in Allegany for the Bonagany festivities.
Bonagany celebrates the friendship between St. Bonaventure University and the village of Allegany. The festival promotes a feeling of well-being between the college and town, said Phil Hardiman, original co-chair of Bonagany.
The festival started in 2005 as the idea of a committee addressing problem areas between the college and the surrounding community, Hardiman said. Committee members proposed Bonagany, which has been part of Family Weekend ever since, he said.
"It's been very successful the previous three years and I see it going on for a long time," Hardiman said.
Bonagany includes fun family activities such as live music, food vendors, portrait artists, clowns and much more, Hardiman said.
The number of vendors has grown each year, starting with 13 in 2005 and increasing to 80 last year, Hardiman said. This year's event is co-sponsored by the Cattaraugus County Arts Council and will feature fine artists and artisans from around the region.
Also during the festival, the Allegany Alumni Band, Sean O'Shea, Andy Hannon and The Jam will provide live music.
Hardiman said that the festival became more popular with the community last year.
"I think with the addition of all the extra vendors and artists, it's becoming more of a local and even a regional draw now," he said.
Bonagany takes place Saturday, Sept. 20, 11 a.m. to 5 p.m. It is concentrated around Town Hall on Main Street in Allegany.
Bonagany isn't the only activity waiting for families when they visit their Bona student during Family Weekend. The weekend's activities are designed to give family members a chance to learn more about the University and to enjoy the time with their student.
The band Usual Suspects will kick off the weekend Friday night with a performance in the Rathskeller, located in the basement of the Hickey Dining Hall.
On Saturday, families can take part in the 13th annual Family Weekend Golf Tournament at the St. Bonaventure Golf Course. Students may register for the event in the Richter Center.

If golf isn't your activity of choice, try coffee with University president Sr. Margaret Carney, O.S.F.; an alumni reception; or shopping with your student around the area.
Dr. Roger Keener, Counseling Center director, will also lead a discussion about students' first months at St. Bonaventure, and expectations for the future.

The weekend concludes on Sunday with a Family Weekend Mass at 10:30 a.m.

A full schedule of events is available at http://www.sbu.edu/About_SBU.aspx?id=18626.
-Christy Andrzejewski
Class of '11
--------------------------------------------------