RA selection announced
"Mom, Dad, I'm thinking about applying to be an RA."

She's thinking about applying to be a ... what?

An RA, or resident assistant. A student holding that position takes responsibility for other students on the floor, working on everything from health issues to developing the floor as a community.

The application process for positions as RAs starts Feb. 15. Students interested in applying may obtain an application between 11 a.m. and 2 p.m. from Feb. 15 to 19. Those applications must be returned to Residence Life by Feb. 26.

To become an RA, a student must have sophomore standing (second-semester freshmen can apply) and must have a GPA of at least 2.30. The Residence Education staff also looks for a well-rounded student, explained AJ Goodman, residence director for Francis, Townhouses and Garden Apartments.

The application process includes writing an essay, a résumé and an interview with Residence Life personnel, plus a series of group activities.

Once a student is chosen as an RA, her responsibilities will include getting to know students, developing community, dealing with conflicts, student health issues, and ensuring the safety of the students.

The position does involve significant time and responsibility, Goodman said, but the "positives outweigh the negatives." An RA receives $6,000 per school year, a sum that can be used toward tuition payment or for personal expenditures. The position offers good experience in leadership and communication skills, he added.

Those chosen for the position will be given late-August training before they start their fall duties.

Thirty-seven RA positions are available, with 14 of those in freshman residences. Any student who will have sophomore standing by next fall is encouraged to apply. Goodman said the Residence Life staff is looking for a wide range of people to enhance resident life at Bonaventure.

Further information on the position and process is available at http://www.youtube.com/ResEdatSBU.
-Felisha Woolley
Class of 2012
____________________________________________
SBU students have a subscription to the online magazine Student Health 101. There is a parent companion piece for you! Access this online magazine.
___________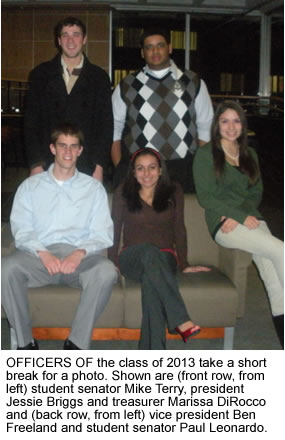 Class of 2013 officers stay busy
Officers of the class of 2013 are "definitely experiencing how fast a semester goes" and how much time it can take to bring plans to reality.

Class president Jessie Briggs said those two lessons are shaping the planned activities for the near future. The officers are talking about a large-scale fun event to end their first year of college and a perhaps larger-scale fundraising event sometime during their sophomore year. Officers are still considering what type of event they might do for the fundraising event.

"We do want to work with the First-Year Experience Council on a year-end event," said Briggs, a psychology major. She visualizes it as a "celebration before finals."

"We'd like it to be a reward for all the support we've gotten this year," she added.

Last semester, Briggs said, the class came together to work on a gift drive for the Warming House, the University's soup kitchen in Olean. Briggs said the class officers plan to invite next year's freshmen to work with them on another gift drive for the Warming House. She hopes to see that drive become an annual event.

Officers for the class are Jessie Briggs, president; Ben Freeland, a journalism/mass communication major, vice president; Marissa DiRocco, political science, treasurer; and Mike Terry and Paul Leonardo, both political science, student senators. The position of secretary is vacant.
____________________________________________
WHAT'S GOING ON . . .
Upcoming events on campus include: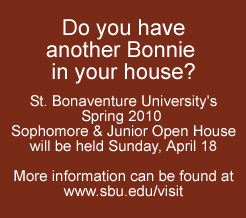 Ongoing - Math Lab available for drop-in assistance in mathematics
Wednesdays - Italian Film Series
Friday-Sunday, 2/12-14 - Homecoming Weekend & Bona Pride Day
Friday, 2/12 - "A Night at the Operetta" in the QCA
Friday, 2/12 - Karaoke Night
Saturday, 2/13 - Music by Rod Tucker
Saturday, 2/13 - Men's Basketball vs. Richmond
Sunday, 2/14 - Women's Basketball vs. George Washington
Sunday, 2/14 - Video games in the Skeller
Monday, 2/15 - "Starting from Scratch: Resume Basics for Beginners" in the Career Center
Monday, 2/15 - "Differences Are Us" panel presentation
Tuesday, 2/16 - "Reflections on Leadership of a Catholic Higher Education College in Northern Ireland" featuring Prof. Peter Finn, president of St. Mary's University College, Belfast, Northern Ireland
Thursday, 2/18 - It Takes 2 Game Show
Friday, 2/19 - John Grey and Friends Band in the Skeller
Saturday, 2/20 - Women's Tennis vs. Youngstown State
Saturday, 2/20 - Snow Tubing at Holiday Valley
Sunday, 2/21 - SBU Band and Choir Concert
Tuesday, 2/23, "Courageous Leadership"
Thursday, 2/25 - Webinar, "Call to Serve- Federal Internships: Finding and Applying for Summer 2010 - Part Two"
Saturday-Sunday, 2/27-3/7 - Midterm Break - Residence Halls close Saturday, 2/27 at 10 a.m. and reopen Sunday, 3/7 at 1 p.m.

Spring semester is jam-packed with Campus Activities Board events!