Dear Parents and Families,
As hard as it may be to believe, your SBU student's first semester is drawing rapidly to a close. They are having a hard time believing it, too. It seems like just yesterday that you were dropping them off (do you remember all those boxes, bags and electronics?) and getting the room ready. Do you remember the jitters? The anxiety? That first wave of homesickness? For many students, most of that is gone, now replaced by an ability to deal with the unexpected and the willingness to face and manage change. I've watched many commuter students, too, emerge as active and involved Bonnies. The Class of 2013 has become just that – a class – with an emerging identity on our campus.
We are delighted to have them as part of the SBU family and look forward to spending the next three-and-one-half years with them.
We trust that your son or daughter has had a good "first-half of the first year" experience. We know that your sons and daughters are looking forward to coming home (don't be surprised at how much they sleep when they get there) and having some serious down-time. They deserve it. We are happy to send them home, hopefully with a sense of accomplishment, but we will be happy to have them back again in January.
From our family to yours we send our very best wishes for a wonderful holiday season and a happy, healthy 2010.
Nancy Casey
Director of the First-Year Experience Program
----------------------------------------------------
Patience key as your student readjusts to living at home
When you sent your student to college four months ago, you knew a lot about her – how she reacts to things, what is important to her. You and she knew what rules were enforced at home and how those would affect her.
All of that is about to be different. Readjusting to home after the first semester of college can be hard for both students and parents. Your student will have grown up, a lot or a little, and he might be different than the person you brought to school in August.
One major thing to consider: Your student has become comfortable being independent and being on her own. She is operating in a setting where she can establish many of her own rules, including how late she stays out at night. That can be among the biggest conflicts when students return home.
Chris Brown, associate director of residence life and director of orientation, deals with many issues that students have throughout the year.
"In the fall semester, the student grows up and parents might not realize just how fast they may have grown up," he said. "They get used to an independence they have never had before. If this independence is not something the parents are prepared for, there will be tension."
The first step, he added, is to expect change.
Brown suggested starting to talk about the changes even before the start of Christmas break. Parents should ask questions – not too many, but it is important to revisit the changes that have occurred in the last four months.
Parents, he added, will need to start all over again explaining what it means to live at home.
One resource for those conversations is the parent/student calendar that each family received at orientation, Brown said. Its December page centers on the theme "Expecting Change."
Roger Keener, director of the University Counseling Center, said it is important to lay some ground rules for the student.
"Opening up communication is essential. Parents and students have to lay down each of their expectations. The old rules may have to change," he said.
Keener explained that students will definitely show independence while defining their wants and needs.
"Students and parents must become reacquainted with living with one another," he said, "and maybe the students will show, in a positive way, how much they have grown up."
Both said the main goal of parents and students is interdependence. If your student was responsible before leaving for college, he will not stop being responsible when he comes home.
Parents and students should concentrate on compromise, even if giving a little more leeway is hard. Life does not have to change totally at home just because your student has returned from college. But things have changed and compromise can help everyone deal with that change.
-Lauren Guerrieri
Class of '11
reprinted from Dec. '08
----------------------------------------------------
Click here for
A Christmas Greeting
from Sr. Margaret Carney, O.S.F., S.T.D.
President of St. Bonaventure University
Featuring "Bonaventure Alma Mater"
(sung to "Oh Tannenbaum")
H.A. Mooney, 1909
1958 Centennial Recording
by the SBU Men's Chorus
Festival of Trees serves up holiday cheer
Snowflakes have begun to dot St. Bonaventure's campus. Students, staff and faculty caught up in the semester-ending hubbub find themselves wondering how to replace visions of finals and papers with visions of Christmas joy and happiness.
For many on campus, taking part in the Festival of Trees program helps provide that holiday spirit. The program is coordinated by Bona Buddies, a social ministry program of University Ministries that offers mentoring to children and adolescents ranging in age from 5 to 18.
The Festival of Trees is "basically a Christmas party for the neighborhood kids," said Robert Donius, vice president for University Ministries.
"The children are the stars," said Della Moore, director of the Bona Buddies program.
This year, 10 six-foot artificial Wesley Pine Christmas trees were purchased and given to local families taking part in the event. Campus clubs, organizations and academic departments contributed by donating $25 and decorating the trees. The trees were set up in the San Domiano room in Francis Hall so members of the sponsoring organization could decorate their sponsored tree at their leisure.
Some campus organizations also donated money or provided volunteers for the event.
This year, the event included a sit-down dinner and entertainment. Student volunteers, including members of the Reserve Officers' Training Corps (ROTC) program, helped with serving food and providing entertainment.
Age-appropriate books and T-shirts, purchased with donations from campus departments, were given to the children.
Those signs of Christmas? Festival of Trees participants found them in the exchange of conversations and gifts over a meal.

And, added Moore, "The looks on their (the children's) faces: You can't beat that."
-Shana Hurley
Class of '11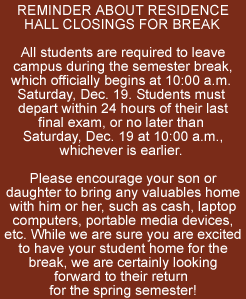 Students can develop leadership skills in ROTC
Planning, time management, leadership: You're undoubtedly hoping your student improves her skills in all these areas during her college career.
One avenue to that goal is St. Bonaventure's Reserve Officers' Training Corps (ROTC) program. Freshmen and sophomores may take the basic ROTC courses without making a commitment to serve in the military; those who choose to continue can officially enter the program as late as the end of their sophomore year.
"My advice to parents of a freshman student is to have their son/daughter take the ROTC class and lab to see if they like it," said Richard C. Trietley Jr., vice provost for Student Life. Trietley was head of the ROTC program at St. Bonaventure for a number of years before his retirement from the military.
Freshmen taking the ROTC basic course and lab will receive academic credit, learn valuable leadership skills, meet new students and open up potential scholarship opportunities (full tuition, room/board, book money and monthly stipend).
From the start, said Lt. Col. Thomas G. Leitch, chair of the Department of Military Science, the program is "about leadership, time management, planning and how these things relate both to the military and to your own experience. It's about training and educating future leaders."
ROTC has been a part of St. Bonaventure for about 70 years. Currently, 44 students, contracted and non-contracted, are participating. Contracted students have signed a formal, legal contract with the U.S. Army and are committed to serving as an Army officer after graduation. Non-contracted students have no legal obligation to the military and are, in essence, "trying out" the program.
The basic course is open to any student on campus who wants to learn the foundations of leadership. Students take one weekly one-credit course a semester. Also offered are a lab and physical training, both optional for non-commissioned members of the program.
Freshmen and sophomores taking the basic courses learn planning, time management and leadership skills.
"In the advanced course, we get into more specific military topics," Leitch said. "We get into very detailed planning about military writing style, how to write operation orders and planning."
Students who complete their academic studies at Bona's and complete the ROTC program are commissioned as second lieutenants into the United States Army. They will either be allowed to serve on active duty, in the National Guard or the Army Reserves.
"Commissioned officers are ready to lead young Americans right after they graduate with 12 to 16 credit hours (in military science courses)," Leitch said.
Students can join the ROTC program after their freshman year. They'll be sent to Leader's Training Course at Fort Knox, Ky., where they'll spend 28 days training with other cadets.
"You're put into different leadership positions and then you're critiqued and evaluated and given feedback on how to adapt your leadership style to different environments," Leitch said.
Participants in the Leader's Training Course program receive a $5,000 bonus, as well as a chance to earn a scholarship.
"It's a win-win situation," said 1st Lt. Matthew Rado. "It's a great experience. It's an excellent opportunity to meet people from other places. You make friends. You get pretty well paid for it. You're really keying in on your leadership abilities."
Over the summer, cadets are offered a variety of further experiences. Some partake in the Cultural Language Program, which sends them to places such as Tanzania or France for a week. Others go to airborne school, or shadow a platoon leader or an officer at a unit.
"It's an opportunity to see what it encompasses before they get commissioned themselves," Rado said. "That benefits them because they're a little bit more prepared when they do move forward.
How many opportunities are out there where you get to get paid and learn about it and still not have a commitment? Give it a try. If you like it, stick with it," Rado said. "That's why a lot of people pursue the ROTC program. It's an excellent opportunity to get in and get involved and get time to decide 'Do I want to do this or not?'"
- Maria Hayes
Class of '12
Students prepared to work hard over break
Two groups of St. Bonaventure students will be heading to warmer climates during the Christmas break, but they won't be lounging in the sunshine.

Both BonaResponds and Students In Free Enterprise (SIFE) plan service trips in January, said their advisers. BonaResponds members will travel to Decatur, Ga., from Jan. 3-16. SIFE members will return to the Bahamas from Jan. 6-16.
Jim Mahar, founder and spokesman for BonaResponds, said volunteers will be helping to rebuild a children's home. He said final numbers hadn't been confirmed yet, but he estimated that some 20 students will go to Decatur, where they will participate in actual construction.
The group, initially formed in the aftermath of Hurricane Katrina, is constantly seeking volunteers and leaders.
"We are the easiest group to get involved with in the world," Mahar said, "We're open to anyone. Show up, come to a meeting."
In addition to service trips, the organization has also done relief work in the local area, including projects in Machias and Friendship. The group's goal is to "help make things better."
Mahar said BonaResponds will probably plan another service trip for the spring break, though the details have not yet been worked out.
SIFE, SBU's largest student service organization, is making its sixth service trip to the Bahamas. Adviser Todd Palmer said 60 members will help in local schools by "teaching basic business principals and character development."
Palmer said SIFE members also plan to rehabilitate a number of houses and a local community center during their stay. A number of members are certified to offer Special Olympics workshops, and will be doing so on this trip.
Palmer said another goal of the trip is to create "a virtual campus between local and Bahamanian schools using distance learning technology."
Later in the spring, the Franciscan Center for Social Concern has put together a number of service opportunities for Bonaventure students. These include a trip to Philadelphia's St. Francis Inn, a soup kitchen, thrift shop and day center catering to the poor and homeless, and a trip to Utica, N.Y., to serve at a United Nations refugee resettlement city. Larry Sorokes, associate vice president for the Franciscan Mission, said these are repeats of trips that already took place in October of this year. Dates for the new trips will be announced.
From Feb. 28 – March 5, trips will be offered to both Boston and Syracuse. In Boston, Bonaventure students will have the opportunity to serve at either the St. Francis House, a day shelter offering food, clothing and various other services, or the St. Anthony Shrine, which offers programs such as education for working poor families and senior citizens.
In Syracuse, students will be part of a non-profit organization to restore parts of the city. They could work in the food pantry distributing meals for the needy or in the free onsite medical clinic for those without medical insurance.
From Feb. 28-March 6, students will travel to Kingstree, S.C. At the St. Ann Catholic Outreach Center, students will work with Habitat for Humanity, the Lunch Program and the After School Program.
For further information, your student may contact Jim Mahar, BonaResponds, 375-2359; Todd Palmer, SIFE, 375-4037; or Gina Oldani, 375-7643, or Sr. Suzanne Kush, 375-2358, for the Franciscan Center for Social Concern.
-Connor McDonald
Class of '11
____________________________